Hawaii residents are preparing for the impact of Hurricane Lane, a powerful category 5 hurricane with maximum sustained winds of 160 mph.
The state closed all government offices on Maui and the Big Island starting Wednesday, all University of Hawaii campuses were shut down on Maui and the Big Island, as well as Molokai and Lanai.
The National Hurricane Center said "Major Hurricane Lane is passing to the south-southeast of the Big Island tonight and is expected to begin a turn northwest toward the islands later today. The center of Lane will track dangerously close to the islands Thursday through Saturday. Regardless of the exact track of the center, life threatening impacts are likely in some areas as the hurricane makes it's closest approach.
Graphic courtesy NHC: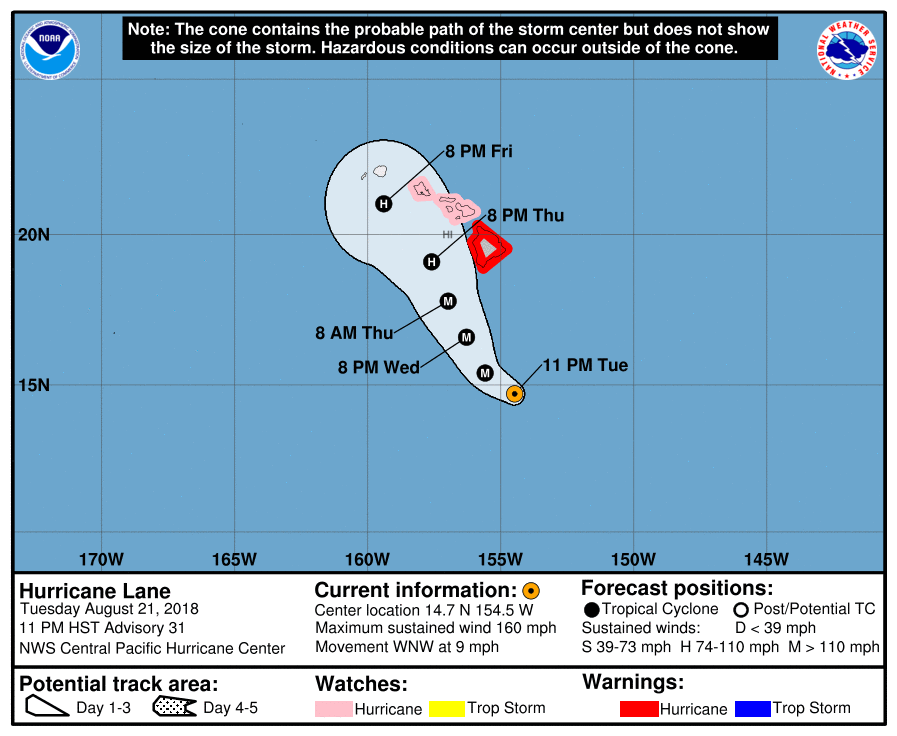 According to CNN, landfalling hurricanes are very rare in Hawaii, as the Central Pacific does not normally see as many storms as the Atlantic – or Eastern Pacific, and the Hawaiian Islands present a very small target in the vast Pacific Ocean.
Only four named storms — two hurricanes and two tropical storms — have made landfall in Hawaii since 1959.
Read More About
Category: All