The Workers Voice has released their August edition, with the 20-page newspaper including articles and opinion columns on local politics and news, including the upcoming Labour Day Banquet, beaches, digital assets and more.
The Workers Voice is a publication of the Bermuda Industrial Union, which said, "The BIU is happy to partner with Bernews in disseminating the Workers Voice so that our publication can reach a wider audience, both locally and internationally. The Workers Voice can also be found our webpage www.biu.bm."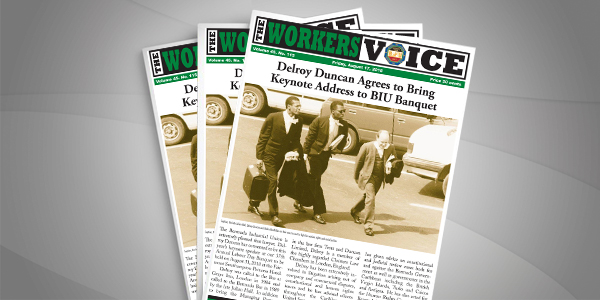 The edition contains articles on Delroy Duncan speaking at the Labour Day Banquet, the Premier joining the 102nd birthday celebrations for Brownlow Place, the Skills Development Programme, digital assets, and the Dr. Barbara Ball Public Health Scholarships; as well as columns on the 'Brilliance of Burt' by LaVerne Furbert, a tribute to Herbert Bascome by Fairmont Southampton's Kiaran MacDonald, the 'Struggle to preserve beach areas for the Bermudian people' by Alvin Williams, and the 'Healthy You' column by Nurse Beverley Howell.
The 20-page Workers Voice August 2018 edition follows below [PDF here]:
Read More About