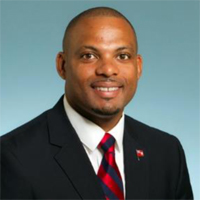 The Bermuda Trade Union Congress [BTUC] is encouraging everyone to join in the Labour Day March and Rally at Union Square on Monday, September 3rd, starting at 11am as "we Progress to a Fairer Bermuda," BTUC President Jason Hayward said.
Mr Hayward said, "The Bermuda Trade Union Congress [BTUC] encourages everyone to come out and join in the Labour Day March and Rally at Union Square on Monday, September 3, 2018 starting at 11 am as we 'Progress to a Fairer Bermuda'. We are asking all to wear red which is the official colour of labour.
"Labour Day is the most significant day in our local calendar for Bermuda's Labour Movement. This year's theme provides workers with the opportunity to conduct a critical assessment of the work which still needs to be done to ensure a more equitable Bermuda for all citizens. Every worker should enjoy dignified working conditions and fair wages that enable them to enjoy a reasonable standard of living.
"The historic 1981 strike, headed by the BIU, was a fight for better wages for private and public-sector workers and was the catalyst for Bermuda's official recognition of Labour Day. The first Labour Day holiday was held on Monday, September 6, 1982. This year marks the 37th observance of the Labour Day Holiday.
Mr. L. Frederick Wade JP, MP, the then Shadow Minister of Labour and Home Affairs, stated in his inaugural Labour Day Address:
"My fellow workers of Bermuda, it is indeed a special pleasure for me to bring you the celebration of Bermuda's first Labour Day Holiday.

"I do so with special pride, as our Party, the Progressive Labour Party was directly responsible for taking the legislative motion to the House of Assembly, which made this happy occasion possible.

"I wish, at the outset of this message, to pledge to you that when the Progressive Labour Party becomes the Government at the next general election, we intend to change the date to the first Monday of May, as was the intent of our original motion. You the workers have indicated that you prefer to celebrate Labour Day in May, and this coincides with our wishes.

"The Progressive Labour Party is pleased that Bermuda's first Labour Day Holiday comes on the eve of our 20th Anniversary. This achievement culminates in 20 years of progress for labour and the Progressive Labour Party.

"As with every achievement of the workers and their organization, this holiday was won only after a long struggle and even then the true wishes of the workers are never given to them in the manner in which the worker's demand.

"On this our first Labour Day Holiday, the Progressive Labour Party asks all of Bermuda's workers to reflect on the achievements of Labour and to look to the future of Bermuda. We ask that you remember your great leaders and that you renew your own commitment to your Labour party and your particular worker's union.

"We in the Progressive Labour Party urge all workers, whether unionized or not, and indeed all Bermuda join together on this Labour Day celebration and all the activities planned by the Joint Labour Day Committee.

"We ask that you bring your family and let us together rekindle the spirit of Dr. E. F. Gordon and Leonard Bascome and rededicate our lives to move the country forward to a Labour Government and Independence."
Mr Hayward said, "These words spoken on the eve of the PLP's 20th Anniversary are still relevant now, 20 years after the PLP's first election victory in 1998. It is important to note that Bermuda's Labour Unions are still fighting for the recognition of May 1st, the date globally recognised as International Workers' Day.
"Additionally, Bermuda, as a Country, still has not earnestly discussed the subject of Independence. However, more importantly, there are major concerns that we must tackle today. Our societal inequalities are growing, and the world of work is rapidly changing.
"The Labour Movement must continue our efforts to progress to a fairer Bermuda, ensuring that access to opportunities for economic prosperity are created and finding solutions to the high costs of healthcare and housing in Bermuda. We encourage you to join us in solidarity as we celebrate Labour Day.
"Labour Day is not just for unionised workers it is for all workers!"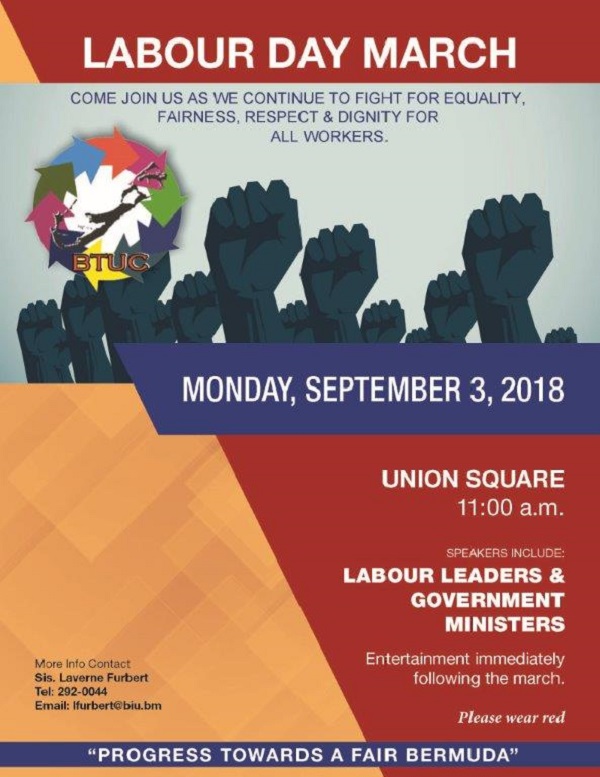 Read More About