The Bermuda Senior Men's National Team are preparing to take on Sint Maarten in the CONCACAF Nations League Qualifier, with the game set to be held next month in Bermuda.
"An essential clash between Bermuda Senior Men's National Team and Sint Maarten has been set for October 12th, at National Sports Center in Prospect. Sint Maarten represents the Dutch side of the Caribbean island of Saint Martin, not to be confused with the French side of Saint Martin.
"In their last international matches, Sint Maartin experienced a disappointing 13 – 0 "reality check" at the hands Haiti, while Bermuda experienced a less dramatic, but no less disappointing 3-1 loss to Aruba. Thus, leaving both teams with a fiery resolve to bring redemption to their nations.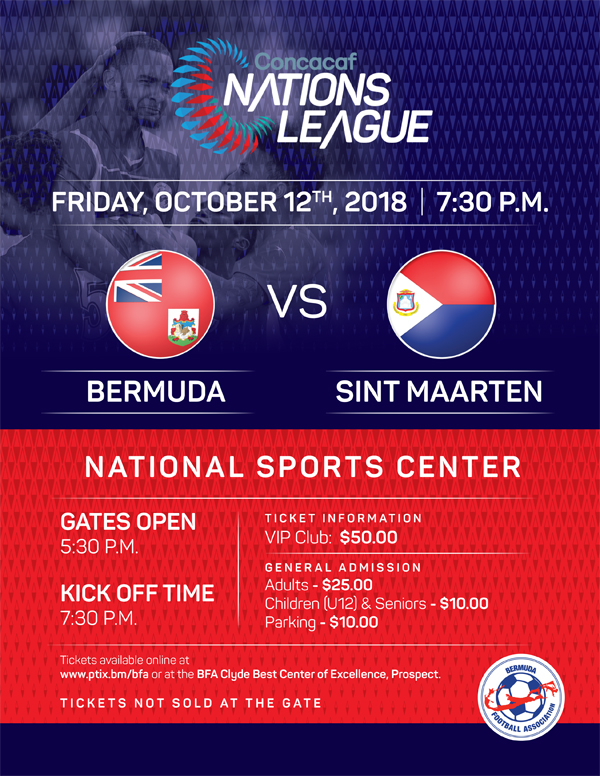 "CONCACAF began its inaugural Nations League qualifying tournament on September 6th with the opening match between Dominica and Suriname. Team Bermuda Gombey Warriors opened their campaign in Curacao versus Aruba on September 9th but their focus must now shift back home when the unrivaled beauty of Bermuda will be the backdrop for the country's 2nd CONCACAF Nations League Qualifying match.
"CONCACAF has divided all its Member Associations [countries] into three divisions. Twelve countries will play in the top tier, which is considered League A, 16 in the middle tier, considered League B and the last 12 in the bottom division, rounding out what is considered League C. Each team in qualifying will play four matches between Sept. 2018 and Mar. 2019.
"The opponents were randomly drawn and all of the national teams will be sorted into an aggregate table to determine which League they will remain going forward.
"The Gombey Warriors date with destiny will kick-off at 7:30 p.m. on October 12th with the gates opening at 5:30 p.m.
Price for admission: VIP Club: $50.00
General Admission: Adults – $25.00
Children [U12] & Seniors – $10.00
Parking – $10.00
"Tickets can be purchased online at www.ptix.bm/bfa or from the BFA Clyde Best Center of Excellence in Prospect. Tickets will not be sold at the gates. Come out and cheer on our Gombey Warriors! Let's Go Bermuda!"

Read More About