One Communications are continuing their beach and ocean conservation clean-up efforts, this time teaming up with Marooned Ocean Foundation.
Building on their inaugural event at Frank's Bay in 2017, One has expanded their efforts to take place on Sunday, September 30 at Daniel's Head in west end of the island.
"Building momentum is necessary to ensure the island is protected. Our reefs naturally do this for us, especially during storm seasons, and it only feels right that we maintain them. Whether it's spending a few minutes while at the beach, or dedicating days throughout the year, the effort is minimal in comparison to the long term benefits we gain" says Michele Belvedere, One Communications NOCC Manager.
"When we first started out as a small group within the company, it was quickly realized that this is something we could grow to involve the public, of any age group, from all over the island. Beach lovers, snorkelers and divers are all invited to lend a hand."
For its second clean-up event, One's community efforts have garnered the interest and involvement of a number of groups, especially that of Marooned Ocean Foundation. Adam Johnson and Conor Outerbridge, co-founders of the charity, were enthusiastic about the partnership to help raise the profile of conservation awareness, while bolstering their educational efforts at schools across Bermuda.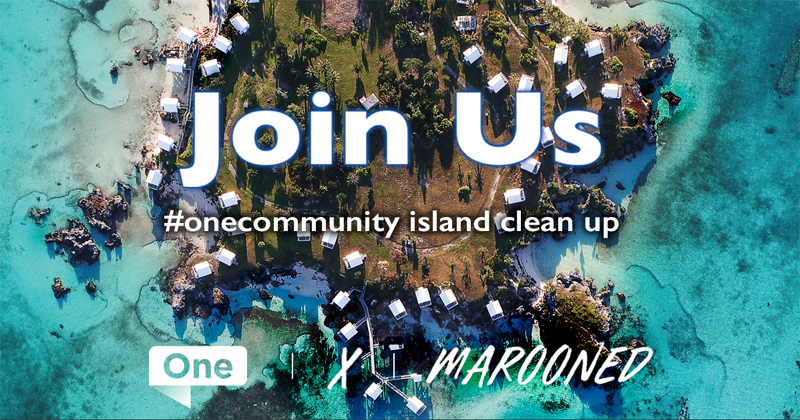 "We are excited to be working with One Communications on this beach cleanup. It is a great opportunity for Bermudians to get together as a community to clean up our ocean. This past week we have shown a movie we made about sustainable living in Bermuda at schools on the island. The eagerness of students to want to make a difference has been great to see.
"For the many school children on the island this is a perfect event to complete community service hours while doing something meaningful. We look forward to seeing people at the event this weekend and we will be selling our t-shirts with proceeds going to the Marooned Ocean Foundation."
Additional groups have answered the call to action – Guardians of the Reef, Naked Zero, Green Lite Café, Tropical Sno, BLDC, Joe Vieira Trucking, Best Shipping and Bermemes – to name a handful.
"We believe we've struck the right balance to get the community involved with a cause dear to all those who care about maintaining our beautiful island home, both on land and sea. Teams will be able to clean up on land, as well as join an experienced dive team led by Weldon Wade," states Schereene Outerbridge, One's Marketing Communications Director.
"We've also got a cool basket of all natural products from Naked Zero to give away to the person who comes closest to guessing how much trash we'll be hauling away that day. Together we can grow the efforts on clean-up days such as this, with partnerships we've been developing. We're certainly looking forward to a great turnout on Sunday, and on future dates which we will announce in the weeks to come."
Both One Communications and Marooned encourage the public to join them at Daniel's Head on Sunday, September 30th, between 10am and 3pm. Organizers recommend wearing old, comfortable clothing, appropriate footwear, dive gear, and snorkel gear as it applies. Food and refreshments will also be for sale from participating vendors. More details about the event can be found online.
For more information about Marooned Ocean Foundation, visit maroonedocean.com.
Read More About
Category: All, Environment