Preserve Marriage Bermuda is getting set to host "Gospel Fest Concert Celebrating Family' on Saturday, September 8 at 7.00pm at Ruth Seaton James Auditorium.
The group, which has been advocating against same sex marriage, said they are expanding, and their "areas of expansion will be in supporting our parents, supporting our men and supporting our marriages."
A spokesperson said, "Preserve Marriage & Family continues to expand its efforts in supporting marriages and families in Bermuda.
"We recognize the numerous matters affecting our community and while we are unable to address every issue, we have directed our focus on key areas. The areas of expansion will be in supporting our parents, supporting our men and supporting our marriages.
"Over the coming months, we will host several family oriented events beginning with "Gospel Fest" Concert Celebrating Family on Saturday, September 8th 2018 at 7pm at Ruth Seaton James Auditorium. General admission is $25 and Patron admission is $50.
"Everyone is welcome to come out and enjoy some of Bermuda's premier gospel recording artists.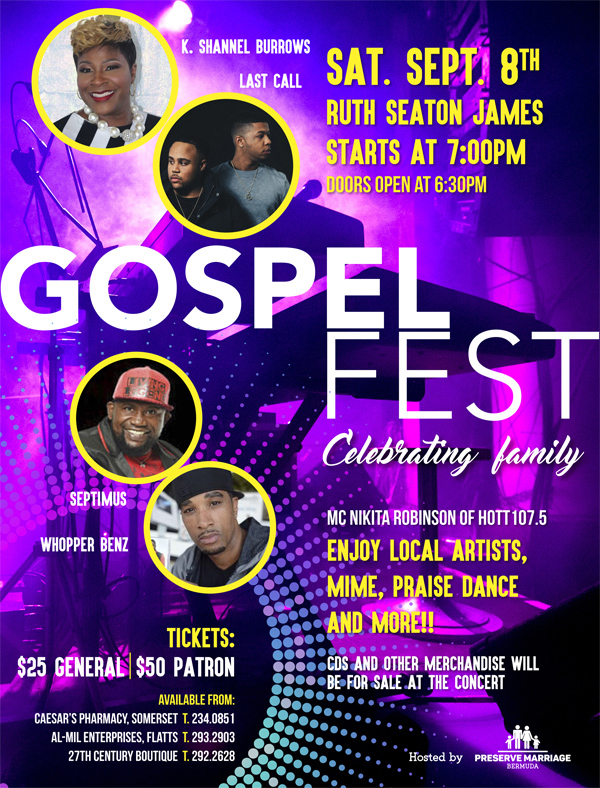 "Come Worship with: Pastor K. Shannel Burrows singing hits from her debut album, Whoppa Benz, Last Call, and Septimus featuring his latest release "No More Murder".
"We would appreciate everyone's support and a portion of the proceeds will assist in sponsoring important outreach events.
"Our upcoming events include The Art of Parenting Series. The series provides support for single parents, step-families, blended families and married parents.
"We will have topics such as The Goal of Parenting, Forming Character, Applying Discipline, Building Relationships, and The Power of Family.
"Late Fall 2018 we are planning a men's event – Stepping Up A Call to Courageous Manhood Weekend. The focus will be on defining manhood, living courageously, building a life of faith, and stepping up to lead.
"Our third major event will be to host "A Weekend to Remember" during International Marriage Week 2019. This event will be hosted with Family Life Global & Heart to Heart Marriage Mentoring Ministries who have been supporting marriages in Bermuda for well over 20 years.
"The Weekend to Remember will present "timeless biblical principles and provide the tools to help relationships", whether you are divorced, on-the-verge of divorce, deliriously-in-love, engaged, newlyweds, or the wise and seasoned.
"We have many exciting things on the horizon and look forward to being a continual positive support to the many needs in Bermuda."
"Tickets available at Caesar's Pharmacy, 27th Century Boutique, Al-Mil Enterprises, local churches and PTIX.bm."

Read More About
Category: All, Entertainment, Music