Hamilton Princess & Beach Club said they are preparing for an influx of visitors to Bermuda as the Hotel Partner for the International Street & Ball Hockey Federation's [ISBHF] Masters Championship.
"It is expected that the event, which runs from September 25-30 will see around 600 people – teams, support crews and friends and family – travel to Bermuda and will have a positive economic impact to the island," a spokesperson said.
"The hotel will be hosting special happy hour events to celebrate the occasion from Wednesday through to Saturday at the Crown & Anchor, from 5pm until 7pm each night.
Bermuda Ball Hockey Association Men's team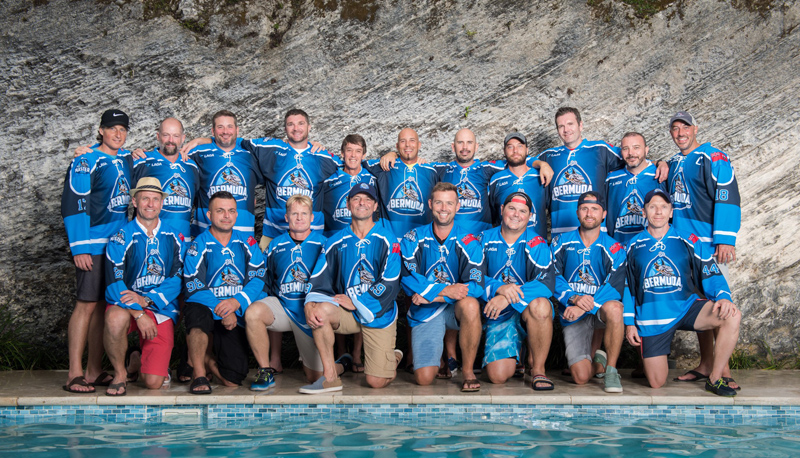 "The tournament, played round-robin style, will see 17 teams from 9 countries compete to be crowned world champions. The teams include five women's teams and twelve men's teams, including one Bermudian team. The countries represented are: Austria; Bermuda; Canada; Czech Republic; Greece; Italy; Portugal; Slovakia and USA.
"The public is encouraged to attend the games, held at the Pembroke Community Centre Rink at Spanish Point and a new rink specially built at Dockyard on Pender Road. The events are free for the public to attend and there will be food and beverage tents for those who want to make an outing of it. The schedule of games can be found online here.
"As part of the Masters and to raise awareness of the sport in Bermuda, the Bermuda Ball Hockey Association will be organizing a youth development program. The association will be starting the development program early in November and it is currently gathering names to launch the league.
"The program is aimed at those between the ages of 6 to 18 years – no existing skills are required and everyone is welcome. This is a great opportunity to learn about the game of hockey in friendly environment with knowledgeable individuals. To find out more, email bermudahockey@gmail.com or visit the Facebook page."
Mathieu Desjardins, of the Bermuda Ball Hockey Association, said: "We are so proud to be hosting the World Masters Championship in Bermuda. The rinks are first class and located in beautiful surroundings, perfect for both guests and locals. We hope that the Bermudian public turn up at the games to root for their home team and to get a good look at sport."
Tim Morrison, General Manager at Hamilton Princess & Beach Club, said: "Sports tourism is an important and growing sector of Bermuda's tourism market and we are thrilled to be the Official Hotel Partner for the Masters Championship. We hope that the public gets out to support the local team and to give visitors to the island the warm welcome for which Bermuda is so well known."

Read More About