With Rosewood Bermuda's reconceptualized restaurant, Sul Verde, recently opening for lunch to guests and locals alike, the hotel's Assistant Front Office Manager, Katherine Burchell, has outlined her ongoing role with the business and its operations.
Ms. Burchell said, "I was born and raised in Bermuda. My family is from the Warwick area. "I went to high school at Berkeley Institute here on the island. I got my bachelors from Humber College in Toronto, Canada. I went to the Lakeshore Campus.
"I was recently promoted to Assistant Front Office Manager at Rosewood Bermuda. In this role, I oversee the operations side of the front desk, which includes managing agents, overseeing arrivals and departures, and making sure we are meeting the standards.
"I have been with Rosewood Bermuda for two years."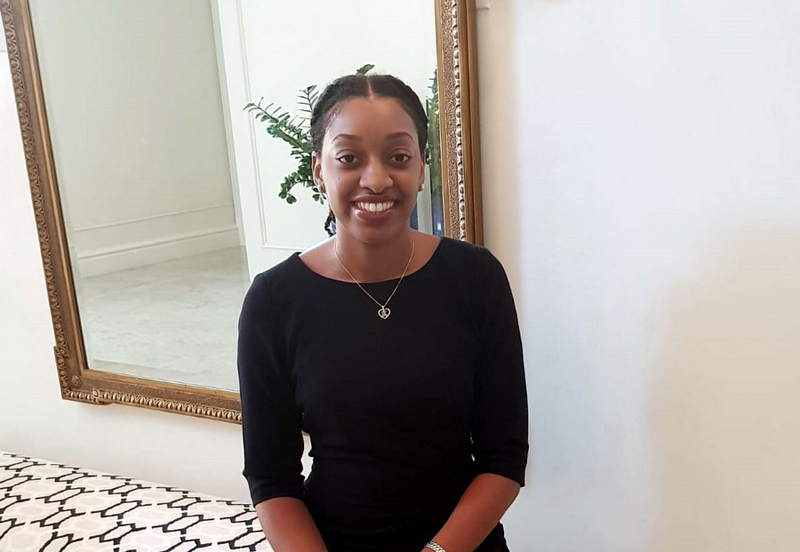 "I have worked in tourism my entire life. I never really saw myself working in a hotel, but my aunt worked at Rosewood Bermuda and encouraged me to apply. I really enjoy it so far.
"My favorite part of my job is welcoming guests to the island, showing them how beautiful it is and helping them have a good time.
"Before I got promoted I was a management trainee. For 18 months, you rotate through the different departments including front desk, housekeeping, purchasing and logistics, etc. While the hotel was closed for renovations I worked a lot with the purchasing and logistics departments on shipping furniture, ordering supplies etc.
"As part of the program I also worked on a project with other management trainees throughout Rosewood. It was nice working with other trainees around the world and learning from Rosewood brand executives.
"My career goals are constantly changing. Originally I wanted to work in the events department of a hotel. After getting some experience, I now want to work with conference services which combines event planning and guest services responsibilities.
"The Beach Club is my favorite part of the property because I truly love being near the ocean. Around April you can see whales off our beaches. It's a truly magical experience.
"I am really into fitness so on my days off I like to go to the gym and cook for myself or go out to eat. You can find a lot of good, healthy eats on the island, but my favorite is Barracuda Grill. Their menu always exceeds expectations.
"I truly love the size of the island and how you can go from one end to the other in one day.
"I also love that we constantly have views of the ocean. When I moved away to Toronto for school I quickly realized I needed to live near the ocean. Most of our hidden treasures are no longer hidden but Woody's is a must for fish sandwiches. Blue Hole park is a great spot with lots of caves to explore.
"My mom truly inspires me. She has always been a sweet, friendly and kind person who would do anything for anyone. Even though she now has dementia she still spends her time helping others.
"I would advise them to try new and different things when they are first starting out. Experiencing the different departments helped me find myself and figure out what I wanted to do with my career."

Read More About