The Serenade of the Seas, a Royal Caribbean Cruise Line [RCCL] ship, made its inaugural visit to Bermuda yesterday [Sept 26].
The Serenade of the Seas arrived yesterday morning from Boston for a two-night stay at the Royal Naval Dockyard. This visit is the first of three calls to Bermuda this season scheduled for 26-28 September, 10-12 October, and 23-25 October.
Minister Roban, Carmen Tucker [WEDCO], Captain Aris Mendia [Serenade of the Seas], Pat Phillip-Fairn [BTA] with officers onboard the Serenade of the Seas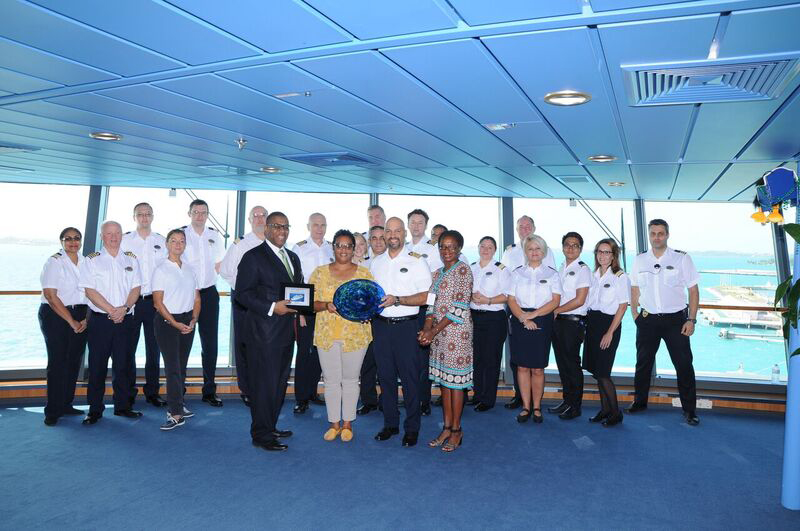 Deputy Premier and Minister of Transport and Regulatory Affairs Walter Roban commented, "We welcome the Serenade of the Seas to Bermuda on this inaugural visit. We are happy to continue our long standing relationship with Royal Caribbean Cruise Line which has, over the years, brought hundreds of thousands of visitors to our shores."
The Minister wished Captain Aris, his guests and the crew of the Serenade of the Seas an enjoyable stay in Bermuda.
The 15-year old ship grosses 90,090 tons and boasts many attractions including a rock climbing wall, outdoor movie theatre, self-leveling pool tables and floor-to-ceiling windows with panoramic vistas. This summer, the Serenade of the Seas cruised in the Baltic Sea docking in Sweden, Finland, Russia, Estonia, Lithuania and Denmark.

Read More About