People are being encouraged to get into the Halloween spirit and come dressed in their best outfits for the last Destination Dockyard event to be held on Wednesday, October 31st.
"We want to see everyone, visitors, performers and vendors, dress for the occasion," said Jonathan Tankard, CEO of PinkSand Entertainment, the organisers of the event. "It is the last event of this series and as it falls on Halloween, we hope everyone will enter into the spirit."
Tomorrow, when the Island will play host to thousands of cruise passengers, entertainers include the Big Chill, DJ Rusty G, Cirqle Bermuda, Warwick Gombeys and Kinetix Bermuda. The event will take place from 5pm to 8pm on the North Lawn in the Royal Naval Dockyard.
Cirqle Bermuda at a previous performance in Dockyard: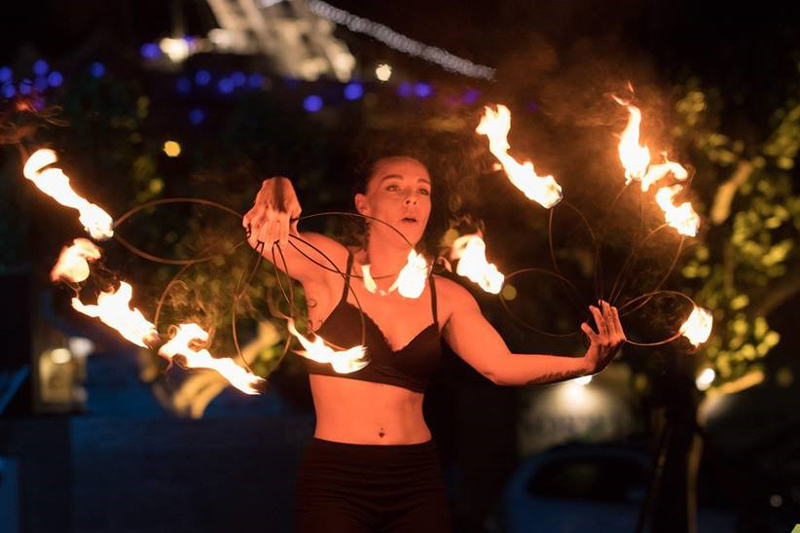 There will also be a range of vendors, including 9 Parishes Rum Swizzle, CultureWear, Anchor Restaurant and JB's Wood Fired Pizza.
Mr Tankard added: "We started Destination Dockyard on July 23 and we've had a good reaction from people who seem to have really enjoyed the event. This is the last one of the season and I hope everyone has a great time."
PinkSand won an RFP issued by the West End Development Corporation [WEDCO] which wanted to revive the idea of a weekly event at Dockyard.
Stephanie Rodill, WEDCO's Marketing and Events Manager, said the event had attracted more people to Dockyard and had proved popular with vendors, businesses in the area and cruise ship passengers.
"All the vendors and entertainers have been local so it has been a good showcase for them," said Ms Rodill. "We'll take stock after Wednesday and look to see if we can repeat this next year."
She added: "This is the last Destination Dockyard of this series although we do have special one-off Destination Dockyard events for Christmas on December 2, 9 and 23 and we will release details of those soon."
Read More About
Category: All, Entertainment