Family Centre will host its 10th annual Children's Golf Clinic and Dinner on Wednesday, October 17 at the Turtle Hill Golf Course at the Fairmont Southampton.
A spokesperson said, "Up to 80 young people between 5 -16 years are invited to have private instruction from golfing professionals for a beginner's taste of the game. Afterwards, a pizza party is hosted outside of the Fairmont Southampton golf clubhouse with chips, cookies, fruit, juices and sodas kindly donated by Butterfield & Vallis and Barritt's.
"Each registered child will receive also receive a small gift from Family Centre. There are two time slots available for the event: 5.30pm start and 6.15pms start, which must be pre-selected."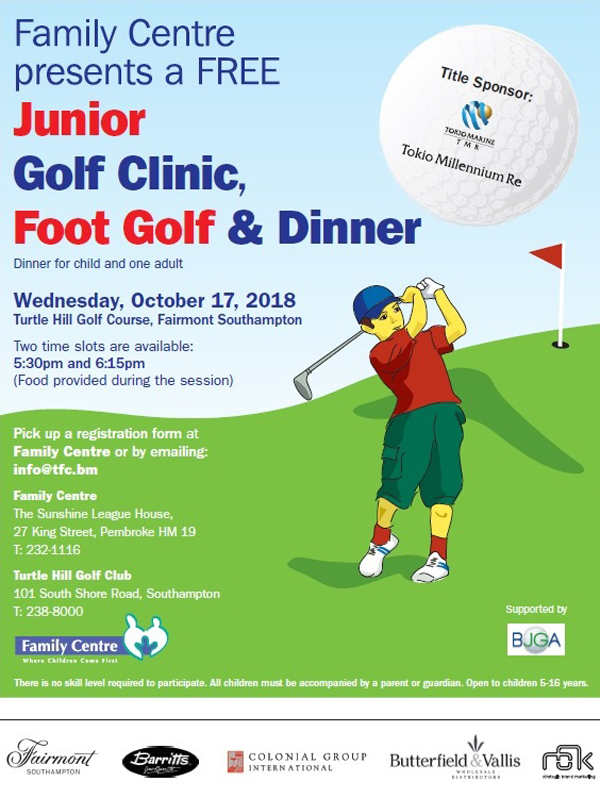 Martha Dismont, Executive Director of Family Centre, said, "We are so happy to be partnering, once again, with Tokio Millennium, as the title sponsor of this event, to offer this fun and informative golf clinic for children and their families! Tokio continues to humble us with their solid support of our work with Bermuda's children and families.
"We are also thankful to the Fairmont Southampton for hosting the event, Colonial Insurance for being a secondary sponsor, and of course, to Chris Brough and Bermuda Junior Golf for supporting the event and providing volunteers. The Golf Clinic is a wonderful opportunity for children to feel love and respect from adults. We encourage friends and families to come and participate, to learn a bit more about the game of golf, and to enjoy an evening meal together. Registration is free."
Call 232-1116 or email info@tfc.prevention.bm for more information or to receive a Registration Form. Registration Forms are also available online. Deadline for entry is Tuesday, October 16th at 4pm. Registration forms can be emailed back to the above address or faxed to 236-0607. Space is limited. Golf clubs are provided. Children should come dressed in sneakers and casual sports clothing.
The Golf Clinic registration form follows below [PDF here]: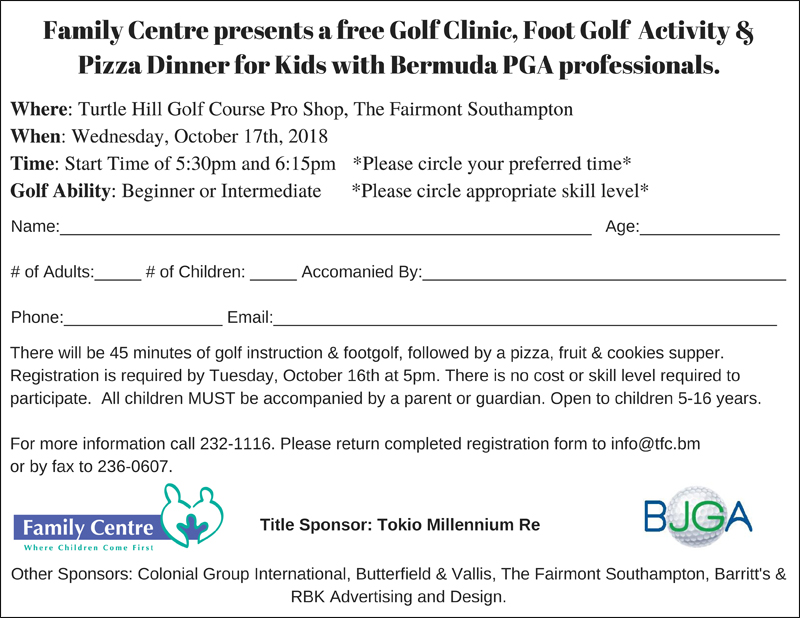 Read More About