Former Governor of Bermuda George Fergusson is set to take part in the British Parliament's Foreign Affairs Committee inquiry in the 'Future of the UK Overseas Territories' on Tuesday, October 16th.
This is according to the official website, which states the 'Oral Evidence Session' witnesses will include George Fergusson, former Governor of Bermuda and non-resident Governor of Pitcairn; Susie Alegre, Director, Island Rights Initiative; Dr Peter Clegg, Associate Professor in Politics and International Relations, University of the West of England; and Eric Bush, Director, Cayman Islands Government Office and Chair, UK Overseas Territories Association.
In addition to serving as Bermuda's Governor, Mr Fergusson also spent four years serving as the non-resident Governor of Pitcairn Island, one of the smallest British Overseas Territories with a population of around 50 people.
Mr Fergusson served as Bermuda's Governor from 2012 – 2016: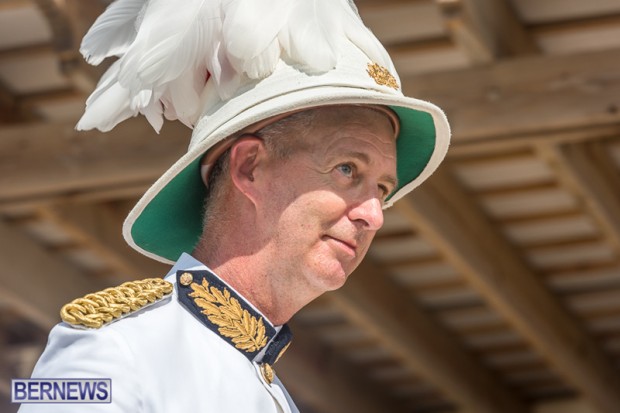 Earlier this year, the British Government announced that "how the Foreign Office manages its responsibility to ensure the security and stability of the UK's 14 Overseas Territories is to be considered in a new inquiry by the Foreign Affairs Committee."
At that time they said, "The Foreign and Commonwealth Office [FCO] has primary responsibility for the UK Overseas Territories [OTs]. These OTs are spread across four oceans and eight time zones. With a total population of 250,000, they cover a seven million sq. km maritime zone.
"They range from Bermuda, with 64,000 people and a maritime area of 53 sq. km, to the British Antarctic Territory, with no permanent residents but a maritime area of 1.8 million sq. km. These dispersed territories support the UK's global reach but ensuring their security and stability, while respecting the principle of self-government, presents a major challenge to the FCO.
"Many face similar challenges. Most raise their own revenues but many depend on funding from a range of government departments and international organisations.
"Many have struggled to build sustainable economies while adapting to the increasing demands of global transparency. Several are the subject of sovereignty claims. They include some of the world's richest biodiversity maritime zones but most are heavily exposed to climate change and increasingly regular extreme weather events.
"In recent years, the OTs have been exposed to shocks, from the Panama Papers in 2015, to the Brexit vote in 2016, and Hurricanes Irma and Maria in 2017. This led some OTs to question the Government's willingness to support them. Relations have been put under further strain due to high-profile instances of divergence between the UK and some of the OTs on issues such as civil rights and financial transparency.
"In the light of these concerns, this inquiry will consider the resilience of the OTs, how effectively the FCO manages its responsibilities towards them, and how it envisages their future. The inquiry is likely to be structured around overarching themes but may look at individual OTs, as and when appropriate."
Read More About