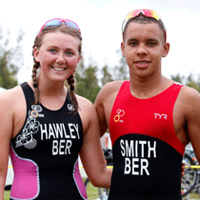 The third edition of the Salinas ITU Triathlon World Cup saw two Bermudians in action, with Tyler Smith and Erica Hawley both competing in Ecuador.
Hawley finished 39th in the Elite Women's Field in a time of 1:00:24. She clocked at 9:49 in the swim, 30:11 on the bike course, before closing out with a time of 18:33 on the run course.
Smith finished 41st in the Men's Elite Field in a time of 54:00. He recorded a time of 9:13 on the swim, 27:22 on the bike course, and then he clocked 15:44 on the run course.
Smith said, "The course itself wasn't too difficult but it was very fast and tightly packed racing throughout. It was my first time racing at this World Cup level, but I was expecting a better result, I struggled with a rough and physical swim as well as the first part of the bike course being at the back of such a large group through some technical sections."
Hawley said, "My race went well – as it's Olympic qualifying time the race was stacked. I believe the girls had 65 athletes which is huge. I had a good swim and bike, but unfortunately the race unfolded as one large bike pack of about 50 girls so it ended up all being determined on the run.
"I was injured most of September and had only started running a couple of weeks ago so I am overall pleased with the race, even though I would've like to have finished up higher than 39th. From 1st to my 40th there was only 2 minutes so the gaps were so much smaller in this race."

Read More About