Friends of the Bermuda National Library and the Department of Libraries and Archives will present a special screening of the The Hate U Give [THUG], penned by breakout author Angie Thomas.
"THUG addresses the everyday experiences of Starr Carter, a 14-year-old teen girl growing up in Black America. After the fatal shooting of her best friend, Khalil, during a police stop, Starr is under pressures from the entire community, while trying to simply do what she feels is right," a spokesperson said.
Director of Libraries and Archives C. Joanne Brangman said, "The library staff are working diligently to offer events and experiences that can open up opportunities for honest and open conversations, especially in a social context. The topics discussed in the book are crucial in a modern context, with the daily experiences of minorities coming to the forefront."
Earlier this month, we had the pleasure of holding a book club discussion, hosted by community organiser, nonprofit leader, and activist in Bermuda Kristin White. The reaction to the book was mixed and offered the open and honest dialogue that we expected."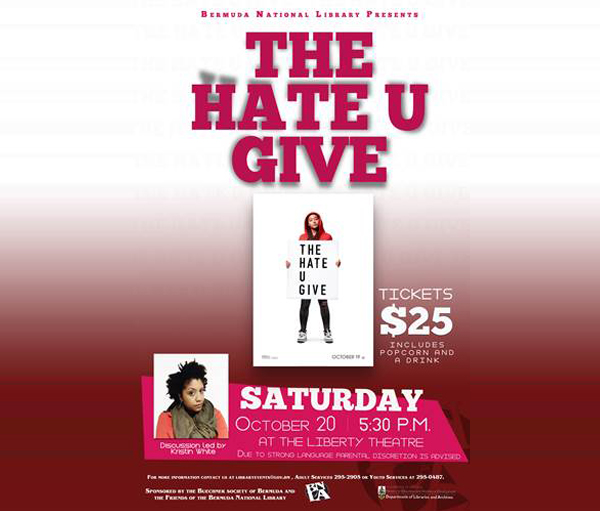 Ms Brangman concluded, "We would like to thank the Friends of the Library and the Buechner Society for their continued support of the vision of the library and enabling us to offer a deeper look at the literature and films that are tackling current social issues."
The event will take place on October 20th, 2018 at the Liberty Theatre. Tickets are $25 in advance and available at both the Youth and Adult Services locations of the Bermuda National Library.
For more information, contact the Bermuda National Library [Adult Services] at 441-295-2905.

Read More About
Category: All, Entertainment, Films/Movies