The Association of Bermuda Insurers and Reinsurers [ABIR] in collaboration with the Bermuda Foundation for Insurance Studies [BFIS] is sponsoring free registration for five Bermuda College students to the International Cyber Risk Management Conference [ICRMC] set to take place in December in Bermuda.
"Helping connect Bermudian students to the growth opportunities in the insurance industry, especially in the field of cyber risk, is critical as we seek to educate our students and prepare them to fill vital roles within the Bermuda market," said Mr. Huff, President and CEO of ABIR.
"The ICRMC will expose these deserving students to the current and future cyber insurance issues and let them hear from some of the most influential voices in the industry."
Bermuda College recipients; Seth Samuels, Dukarai Richardson, Randall King, James Barber, and Christopher Montgomery; Joshua Alvera of ABIR; Catherine Lapsley, Executive Director BFIS; Michael Simmons, Computer Information Systems Lecturer Bermuda College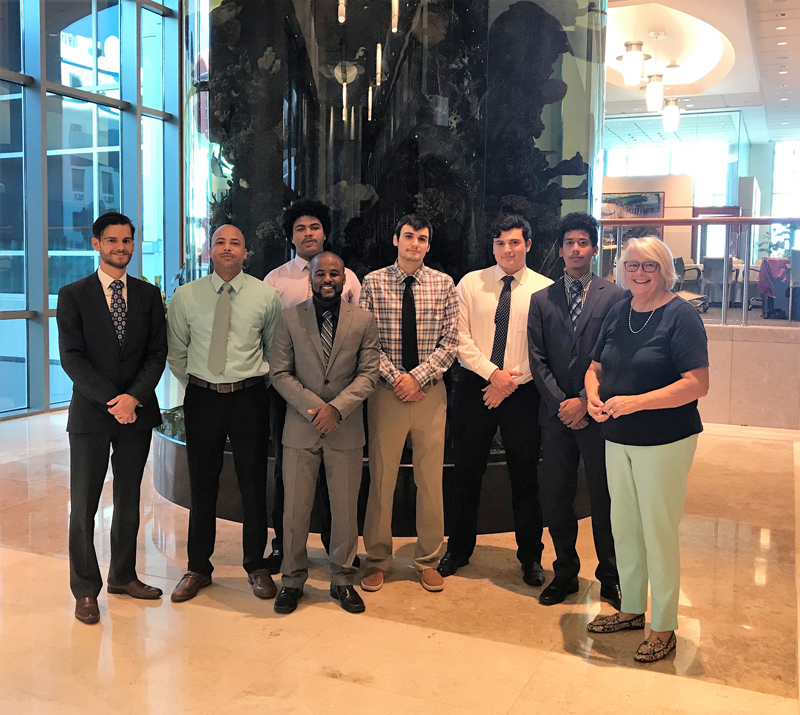 "ABIR recently released its economic impact data showing that ABIR members are comprised of nearly 70% Bermudians. ABIR members contributed more than $840 million to the Bermuda economy in 2017 according to the groups 13th annual member survey results," the group noted.
"Other notable contributions to Bermuda include $7.8 million in charitable contributions [a 4% year-over-year increase] and 55 intern jobs to Bermudians in 2017.
"The fifth edition of the ICRMC takes place December 6-7, 2018 at the Hamilton Princess & Beach Club in Bermuda and features world-class cyber leaders. Speakers at the event include Silicon Valley and Wall Street Chief Information Security Officers [CISOs], global cyber leaders from insurance and cyber risk management industry, along with regulators and technology trailblazers with an eye on cyber security.
"ICRMC provides delegates with an essential forum to learn from experts, network and share experiences with peers and colleagues, and get the answers to help mitigate and respond to today's evolving cyber risks.
"The programming is driven by a world-class advisory committee made up of cyber risk subject matter experts from the areas of information technology, insurance and risk management, law, audit and compliance, governance, academia and public policy."
Conference programming and registration can be viewed at bermuda.icrmc.com

Read More About
Category: All, Business, technology