[The third profile in a series by the TechAwards Committee highlighting past winners]
In 2008, QuoVadis won the TechAward for International Markets. Since then it has since come full circle. Founded in 1999, QuoVadis was incubated at e-VentureCentre, a Bermuda- based member of the Zurich Financial Services Group. The Island's vibrant international community and well-grounded regulations for electronic transactions provided a springboard for QuoVadis' international expansion.
Bermuda was one of the first jurisdictions worldwide to enact legislation dealing with the formation of electronic contracts and the validity of digital signatures. Long a home to leading insurance and investment companies, the island now hosts a growing convergence of global e-business companies and service providers.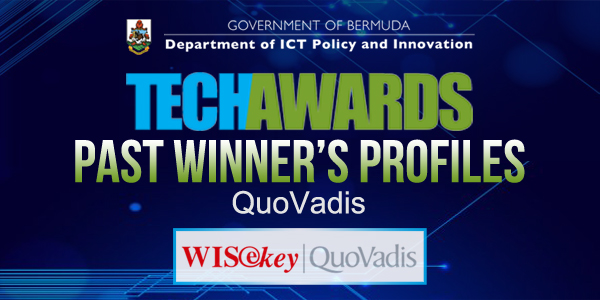 According to QuoVadis co-founder, Tony Nagel, "Bermuda is a focal point in the development of international e-business. Many local operations sit at the hub of business networks that extend around the world, dealing with high-value transactions and confidential transfers of information.
"Use of the Bermuda certificate authority increases the overall security of our clients' businesses and reinforces their affiliation to their preferred offshore regulatory, legal, and fiscal environment." With its 2017 acquisition by Swiss cybersecurity firm WISeKey, QuoVadis Holdings has come back to its Swiss roots. Roman Brunner, CEO of QuoVadis, said the acquisition would help QuoVadis to expand its multinational corporate markets.
"QuoVadis is now a leading commercial Digital Certificate Authority [CA] providing managed public key infrastructure services [managed PKI]. QuoVadis Trust/Link registration authorities provide great flexibility for our customers wishing to register their employees and counterparties, as well as manage large numbers of SSL and device certificates.
The Department of ICT Policy and Innovation is reminding the public that the deadline to nominate their favorite local technological innovation for Bermuda's annual TechAwards is Friday 26th October.
To nominate individuals in four specific categories before 26th October go to techawards.bm:
1. International Innovation of the Year;
2. Local Innovation of the Year;
3. Most Innovative Youth Product of the Year;
4. New Mobile Application of the Year.
- Nominations for the 2018 TechAwards close on October 26, with the awards to be presented on November 1.

Read More About
Category: All, Business, technology