The Rotary Interact Club of Hamilton has received its Charter from Rotary International, with District Governor Kris Chittur presenting the Charter to Club President Nadhiri Simons.
A spokesperson said, "President Nadhiri Simons, student at BHS, has assisted in enabling her Rotary Interact Club to receive its Charter recently from Rotary International.
"District Governor and Harvard graduate Kris Chittur presented the Charter to Nadhiri, who is present President of Rotary Interact Club of Hamilton Bermuda, which is sponsored by Hamilton Rotary Club.
"Dr. Raphael Loutoby is current President of Hamilton Rotary Club. The Rotary Interact Club, which is a community-based club, has 30 members ranging in age from 12 to 18 from both public and private schools. The club is facilitated by advisers Cathy Bassett, retired school principal, Glenda Edwards, retired Family Services Director, and Colita Shillingford, AIG executive and former Miss Bermuda."
Nadhiri Simons & Kriss Chittur: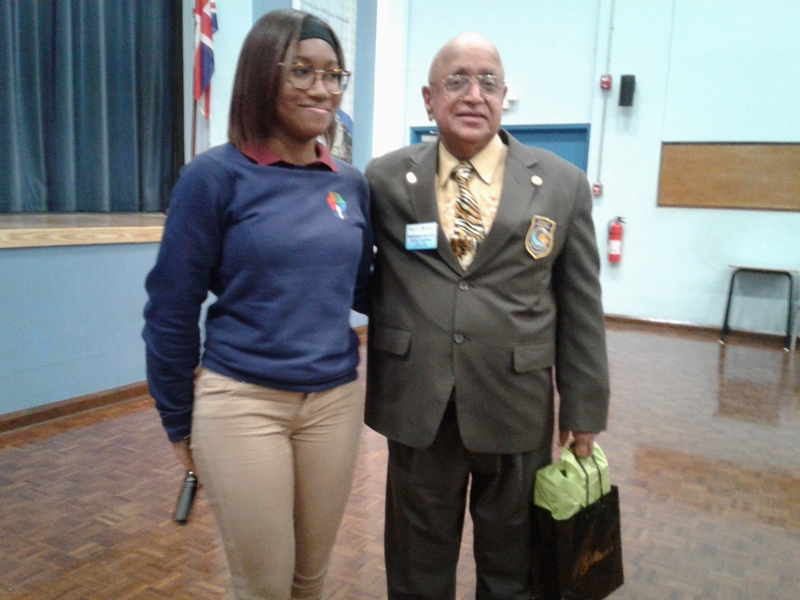 "It has been in existence since 2015 in Bermuda, having been revived by Rotarian Cathy Bassett after attending the Rotary Convention at the United Nations in 2014. The original Rotary Interact Club was organized by past presidents Kirk Kitson and the late Jay Bluck 43 years ago. The Club came to an end when the youth members left to go to college and pursue careers.
"Original members included Bruce Barritt, Lessilene Williams, Wendell Brown, Jan Binns, and other Bermudians who lit the torch of service. The Interact youth group has become a glowing flame and seeks to inspire Bermuda's youth, preparing them for leadership.
"Nadhiri Simons-Worrell, who entered Rotary at the age of 12, has blossomed into a fine leader, having assisted in organizing activities such as holiday feeding opportunities for needy families, presentation of toys, books and puzzles to Warwick Preschool when one of their classes was burned, a pot luck supper where $1,000 was raised for charities such as SCARS, and a host of charitable ventures including donation of over 50 pairs of sneakers and football boots for orphans in Haiti, a donation of $500 to Big Brothers.. Big Sisters organization, selling of raffles for Hamilton Rotary Youth Development Holiday Raffle Drive, which is currently going on in the community, and several tagging opportunities for local charities.
"The student members of the Hamilton Rotary Interact Club are now planning to sell hot chocolate and baked goods at the upcoming Boat Parade. They will have a table near the Royal Bermuda Yacht Club at Albuoys Point to sell their goodies. Part proceeds will go to the daily feeding program in Bermuda Public Schools sponsored by the Feed My Children locally-based daily lunch provision program for needy children in public schools.
"Nadhiri has served Rotary as an International delegate to the annual Rotary International Conference in Atlanta, Georgia. She will lead another delegation in April 2019 to New York as the Interact Students of Hamilton Rotary present at the upcoming Rotary District 7230 Conference. Their presentation will focus on mentorship for leadership afforded by Rotarians of all four clubs on the island.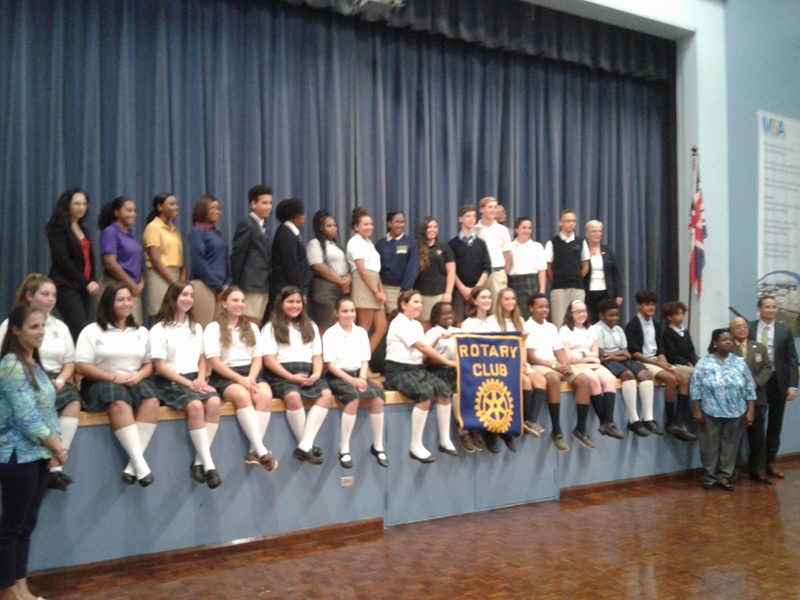 "Public and private school students interested in becomimg Rotary Interact members of the community based Interact club can contact Rotary Director Cathy Bassett at cibassett54@gmail.com
"The next pinning of new Interact members of Hamilton Rotary will take place on Thursday, November 29 at the Department of Youth and Sport on Wesley Street at 5.00pm.
"President Nadhiri continues to lead and groom new leaders as she demonstrates Service Above Self.
"District Governor of Rotary District 7230 Rotarian Kriss Chittur recently led a delegation of Rotarians to Bermuda during the annual Rotary 'On To Bermuda' week-long event where Mount St. Agnes and Somersfield Academy Interact Clubs also received their charters. Both clubs are actively engaged in service activities. Pembroke Rotary Presidents, Rotarians Sue Moench and Jason Taylor, have established the school-based Interact Clubs this year.
"The School-Based Interact Club initiative is driven by Hamilton Rotary Director, former Interact member of Uganda, Rotarian Jean Akol, International Account Executive. CedarBridge Academy is the next school targeted to start an Interact Club on site.
"Companies and private residents who would like to sponsor Rotary Youth delegates of Hamilton Bermuda as they prepare to present at the upcoming District 7230 Rotary Conference in New York are asked to email Youth Director of Hamilton Rotary Club Cathy Bassett at cibassett54@gmail.com. Middle School and Secondary School students will be attending and presenting at the conference."
Read More About
Category: All