The winners of the sixth Charity Christmas Tree Event have been announced, with each participant receiving a $750 donation and winners receiving increased amounts.
A spokesperson said, "This will be the sixth year that the Charity Christmas Tree Event has been going on. We are thankful to Sun Life Financial International, who sponsor the event, along with Washington Mall Properties for allowing us to have it in this location. Gena Cann, the representative from Sun Life Financial, was on hand to give out the awards."
3rd Place: Kaleidoscope Arts Foundation – $1,750
"Kaleidoscopes are symbols of possibility, potential and unique beauty – attributes we embrace – so we've used our tree as a canvas to bring our name to life.  The many colours, shapes and textures adorning our tree showcase the variety of mediums through which we teach. Each decoration, from the 'lights' to the hand-made felt balls and kokedamas [living ornaments], were made by our teachers and students.
"At KAF we use art and garden programming to teach math, literacy and science in unique ways and to help meet each child's developmental needs.  We hope you enjoy viewing our tree as much as we did handcrafting it."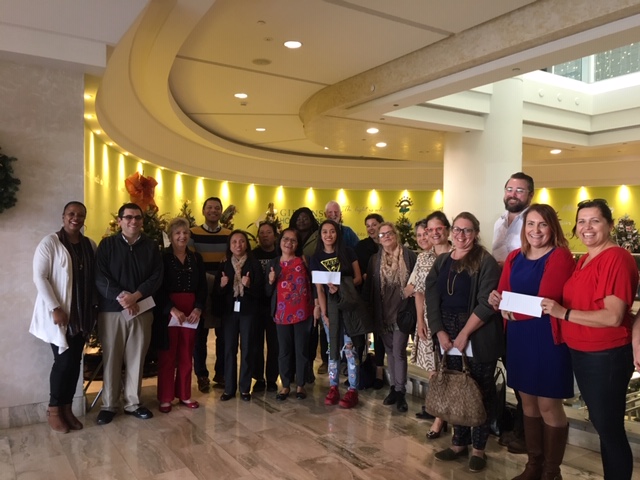 2nd Place: Bermuda Arts Centre at Dockyard – $2,500
"We have named our tree a 'Christmas Tapestree.' It is woven art in motion, combining old world, modern art and a little bling to represent everything that the Bermuda Arts Centre stands for – To promote, showcase and encourage local art in all forms. Our tree is a group effort which required the donation from our local artists of old paint tubes, brushes and frames.
"Artists went further and donated small paintings, tiny pallets and more bits and pieces. Our balls of paint tubes and brushes represent the turmoil of an artist's life in the struggle to create and be appreciated. Our tree represents the freedom of expression that is not often easy or accepted in a world where art is becoming less appreciated. Our tree is topped with a well loved pallet and the star is created from old frames."
1st Place: Casa dos Açores da Bermuda – $4,000
"Casa dos Açores da Bermuda [House of the Azores of Bermuda] is a Charity established in 2015 for the purposes of promoting, celebrating and sharing with all of Bermuda the rich culture of the Azores Islands, Azorean traditions, and the Azorean history in a Bermuda. As the Bermudian culture has had a tremendous impact on the Azorean Bermudian culture of today, we decided to decorate our tree with a theme of paying homage to the beautiful differences in both cultures that unite us.
"Our tree includes handmade symbols with the names of the 9 islands of the Azores with their national symbol attached, the Bermuda Gombeys, a Christmas Nativity Scene with cedar chips and Bermuda sand, a replica of the Portuguese Rock in Spital Pond and handmade Bermuda Cottages and Buildings celebrating symbolic landmarks in our Azorean and Bermudian Community. We also say thank you to certain supporters who have made our contribution to the Islands community possible since the establishment of our charity."
"For our People's Choice Award, we had 1,008 votes, which was up this year. The top number of votes of 442 went to our winner, Portuguese Cultural Association."
People's Choice: Portuguese Cultural Association – $2,500
"The decorations for our Christmas tree were handmade by Portuguese School students with recycled materials [water bottles, fabrics, felt, burlap, bottle caps, etc].We also hung little bags of biscotios on the tree – typical sweets from São Miguel Island, Azores. Historically, some weeks before Christmas, housewives would make biscoitos and liquors to offer visitors who would visit on Christmas day to admire the presépio – a homemade Nativity scene very common in the Azores.
"We also recreated our own very simple presépio featuring the main characters of the Nativity: Baby Jesus, Mary, Joseph, the angel and the three wise men."

Read More About
Category: All, Entertainment, News