[Written by Nadia Laws]
Local filmmakers Andrew Kirkpatrick and Nhuri Bashir are ending 2018 on a high note, after recently taking part in an overseas production of the holiday movie 'Christmas In The Highlands'.
Andrew and Nhuri, of Burnt House Productions, flew more than 5,000 miles to Angus, a region in the east of Scotland, where they lent a hand to producer Brooke Williams for the project.
Although cold in the UK at this time of year, the duo admittedly had a "fantastic time" and are look forward to shooting more feature films in the near future.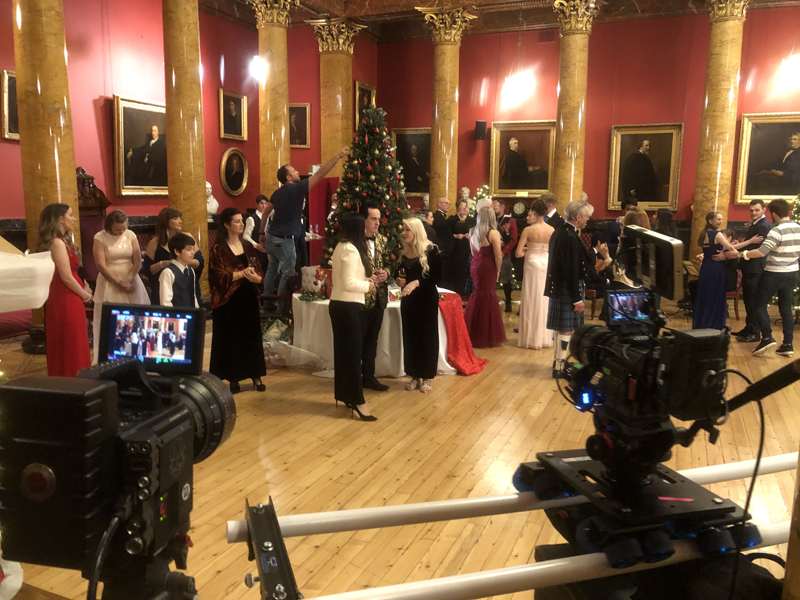 Q: Can you tell me how this opportunity came about to work with Brooke on a project in Scotland?
A: Nhuri and I were approached by Brooke Williams [Producer @ Triventure Films] two years ago to work on her previous movie, shot in Bermuda, called 'Mother of All Secrets'. On that shoot we had a fantastic time and built up a great rapport with Brooke. Brooke is an extremely hard worker and continuously impresses us with her ability to create a story and bring it to fruition so quickly, which is a testament to her strong producing skills. So when she asked Nhuri and I to be a part of her next project, 'Christmas in the Highlands', which is set in Scotland we jumped at the opportunity. Bermudian Jermaine 'Pong' Simons was also brought on board as Art Director with the rest of the team comprising of either New York or Scottish local crew.
Q: Can you briefly explain what this film is about?
A: In a nutshell the movie is about a New York sales manager who is sent to the remote Scottish Highlands at Christmas to acquire a limited edition perfume from a dashing Earl preparing for his annual ball and falls in love instead.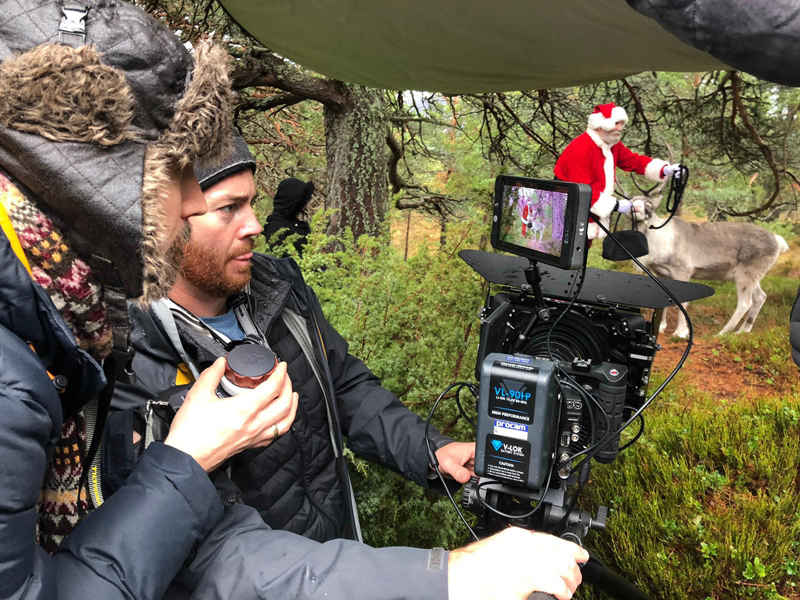 Q: What has it been like shooting in this part of the world? Any differences to what you're used to?
A: It's been cold! That's what is was like. But once layered up it was incredible. The rolling hills in he background with historic castles dotted around the area was mesmerizing. The actual castle we shot in for the main scenes, Glamis Castle, is the most haunted residence in the UK and was the inspiration behind Shakespeare's 'Macbeth' play. What was also great was how well such an international crew worked together -under some trying conditions and tight deadlines. Everyone hustled to make this story come to life and most notable was how well Jermaine Simons performed in his first time role as Art Director. The entire team was extremely impressed with his professionalism, eye for detail and overall set etiquette which shows what talent can emerge from such a small island given the opportunity.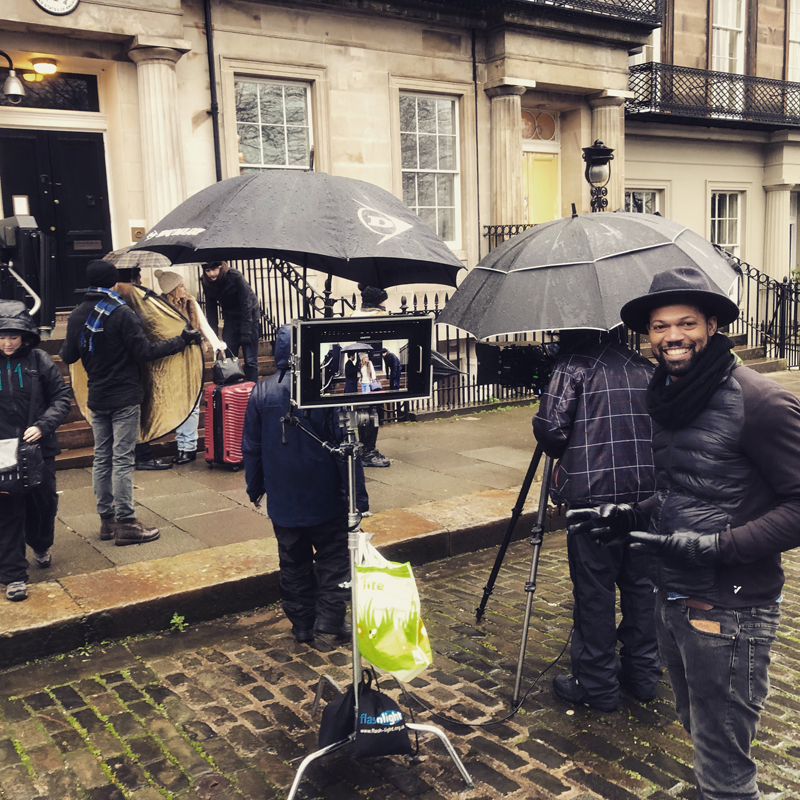 Q: What have been the challenges? And rewards so far on this project?
A: I think the biggest challenge was time. The script takes place over many locations so the issue we had was shooting these scenes across Scotland in a specific allotted amount of time. If you ask most industry professionals they would probably say the same thing and the only way you get through it is by working with a great crew which we were lucky enough to have. The filming involved very long days over there but I think if you are passionate about a project it often doesn't feel like work……. as long as you have enough coffee in your system; which we did. The reward for us is always when the finished project comes out and you can tell people you helped make that happen. You watch it and you can remember all the hard work that went into the smallest of scenes or how a line mistake turned into the best scene of the movie. After that you are like, "Ok, How do we get the next one started?!".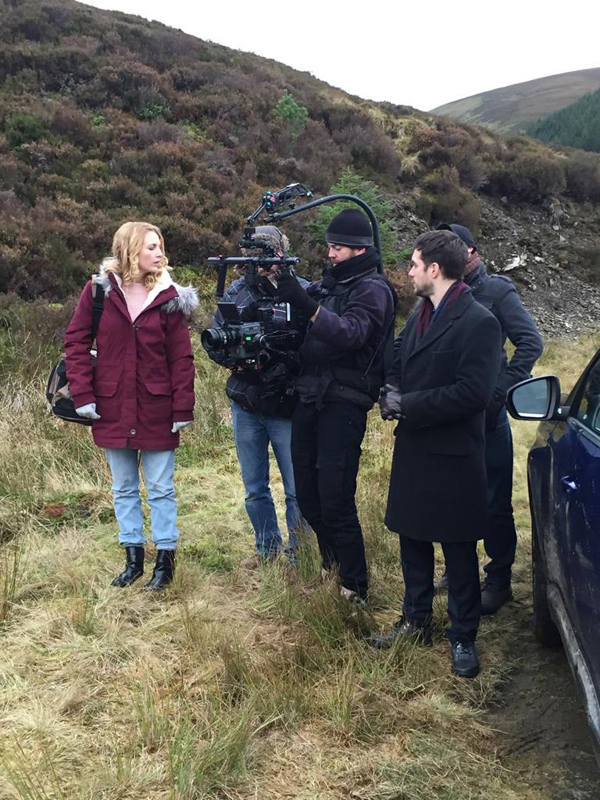 Q: You both have accomplished much in your careers already. What does this opportunity mean to you and what would be your advice to any other young up-and-coming filmmakers/ creatives desiring to make it in this business?
A: For Nhuri and I, we continually try to find ways of growing whether it's to improve our own personal skills or to work on bigger productions we can be proud of. I think we were extremely fortunate to have Brooke reach out to us in the beginning and bring us onboard her film career path, which is something we had been talking about for years. I think when it comes to starting out, growing or career path changes you need a great team by your side, however big or small. For local productions what works for Nhuri and I is having the ability to bounce different ideas off of each other or add value in an area where the other may have limited experience. Having this option I feel opens the door to new and different opportunities. I don't think there is ever one avenue that will lead you down your desired path but what I would say is work hard and try and go above and beyond what is expected. You will be surprised at what comes your way if you do that.
Nhuri and I never say we want to do 'X' for the rest of our careers as we are both big fans of switching things up from time to time. However, we will always love working on local productions whether it's helping to promote the island in new and interesting ways or filming a local artist on their next music video. Still, shooting feature films is definitely high on our future to-do list.

Read More About
Category: All, Entertainment, Films/Movies, News