A partnership between the Bermuda Tourism Authority and Garden & Gun magazine cast a publicity spotlight on some of the island's creative minds.
Six local entrepreneurs and tastemakers are in the December/January issue and featured on the Garden & Gun website. Social media posts have helped to broaden the reach further. and the BTA said the "potential exposure could reach more than half-a-million consumers."
Those featured in the most recent Garden & Gun coverage include:

Chef Michiko Campbell of Chiko's Smokey Rub
Rickeisha Burgess of DuchPops
Cary Butterfield and Patricia Borland of HAMEC
Nina Froncioni of Limestone + Cedar Co.
Steve Hollis of Ocean Sails;
Stratton Hatfield of YART
"The innovation and spirit of Bermuda's creative minds is an excellent platform for conveying Bermuda's distinct vibe and way of life," said Bermuda Tourism Authority Chief Sales and Marketing Officer Victoria Isley.
"Garden & Gun has captured each one of these special talents in a memorable what that we hope resonates with readers and inspires them to travel out here."
The Garden & Gun magazine placement | Page I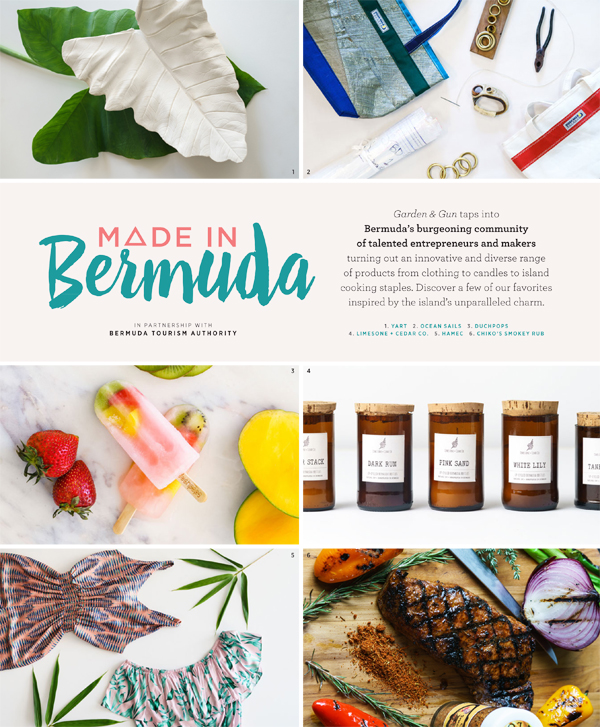 "Garden & Gun is known nationwide in the United States, however it focuses on the modern lives of affluent Southerners who enjoy the outdoors. Its content primarily covers the twelve Southern states and the Caribbean," the BTA explained.
"The new feature on the island's unique talent, titled 'Made in Bermuda', is designed to tap into Bermuda's burgeoning community of talented entrepreneurs and makers turning out an innovative and diverse range of products from clothing to candles to island cooking staples."
The Garden & Gun magazine placement | Page II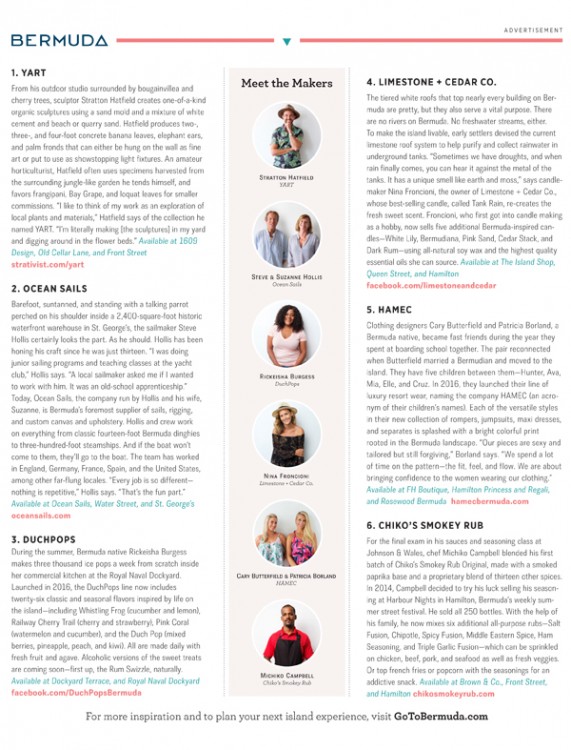 In the coverage, readers are educated on how they can purchase any of the local products online or when they visit the island.
In another element of the annual partnership, Chef Campbell was one of several local chefs working with Garden & Gun and the Bermuda Tourism Authority as they hosted a spectacular farm- and sea-to-table dinner in partnership with Outstanding in the Field.
In October, more than 100 Garden & Gun readers and Outstanding in the Field followers bought vacation packages to Bermuda for a weekend which included the dinner at a secluded cove at the Hamilton Princess Beach Club.
2018 Outstanding in the Field dinner | Photo by Chris Burville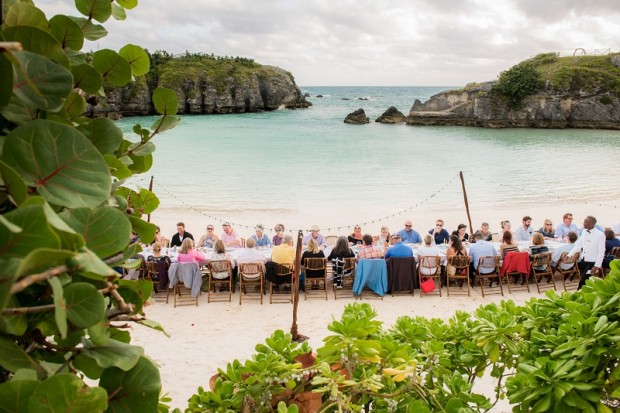 The sold-out event also featured dishes prepared by Kamilah Cannonier of Sweet Sak Bakery and Danai Hongwanishkul, the executive chef from Marcus'.
Culinary elements showcased Bermy Fresh, Windy Bank Farm, Wadson's Farm, Pop and Sons Honey, the Blind Pig and Goslings Rum. Dance and musical performances by Gombey Troupe Evolution and Raven Baksh were also featured. A similar Outstanding in the Field dinner at Chaplin Bay also sold-out in 2017.
Chef Michiko Campbell with service staff at the Outstanding in the Field dinner | Photo by Chris Burville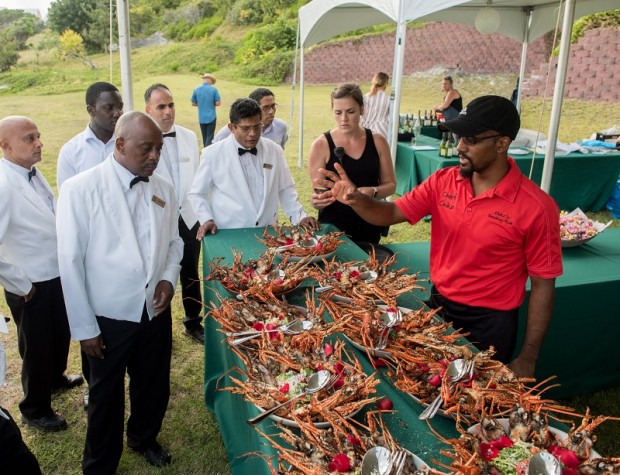 "The Garden & Gun coverage helps my small business reach new clients and customers," said Chef Michiko Campbell.
"The Chiko's Smokey Rub brand is better known around the globe because of media exposure like this and opens up new opportunities for me as a chef and a business owner."
Read More About