The Bermuda round of the 2018 FEI World Dressage Challenge was held at the National Equestrian Centre on Saturday.
Judging this year's competition was Mercedes Campdera of Mexico and Brenda Minors of Canada. The FEI World Dressage Challenge enables local riders to compete against other competing countries without the expense of travelling overseas.
Claire Turner & Landtango, Angela Halloran-Smith & Finnomenal AV, Kelsey Amos & Wiratoro and Robin Stempel & Rossano Royal 2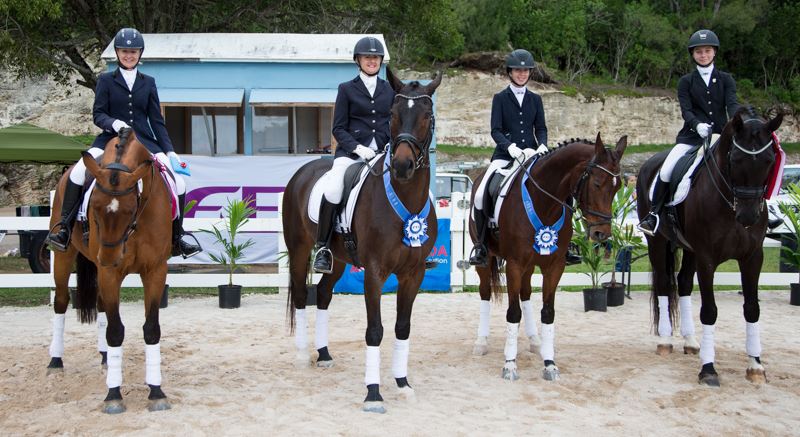 In the Bermuda competition, national dressage coach, Angela Halloran Smith riding Finnomenal AV secured the top placing in the Senior II Class with a score of 70.03%.
In the Senior 1 Class, Virginia McKey and Matinee placed lst with a score of 66.60% and Kelsey Amos and Wiratoro received a score of 68.26% in the Youth Class. The Best Presented Horse [determined by FEI both Judges and Veterinarian Dr. Lucy M. Richardson] was awarded to Landtango & Claire Turner.
The pre-selected Bermuda Team are Angela Halloran-Smith and Finnomenal AV, Robin Stempel and Rossano Royal 2, Claire Turner and Landtango and Kelsey Amos riding Wiratoro.
Overall results and country standings will be provided once all participating countries have competed their round of the FEI World Dressage Challenge.

Read More About