[Updated] A 63-year-old man was arrested for "suspicion of driving whilst impaired" tonight [Jan 19] after his car went over an embankment in Paget, according to police.
A police spokesperson said, "Police responded to a report of an incident that took place on South Road in Paget 100 yards west of the entrance to Elbow Beach at 7:42pm today [Saturday].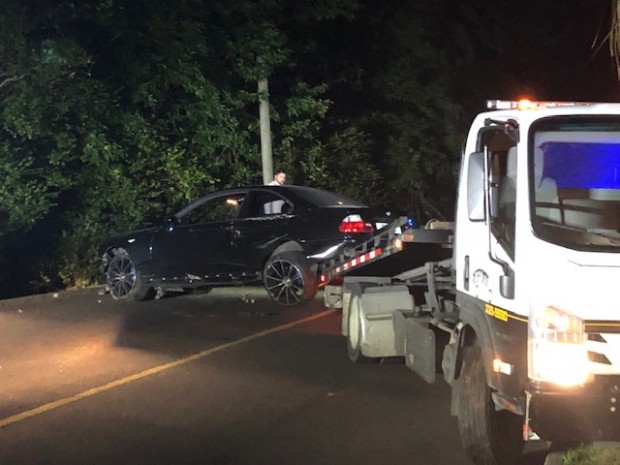 "It appears that a male driver of the car lost control of his vehicle resulting in the car going down an embankment by Coral Beach.
"The driver and passenger were assisted out of the car by a member of the public and the driver, a 63 year old male was arrested for suspicion of driving whilst impaired.
"The passenger in the car is being treated for non life threatening injuries and an investigation into this incident is now underway and police are looking to speak with anyone who may have seen this collision to contact police on 295-0011."
A police spokesperson said, "The appeal continues for witnesses to a single vehicle car crash that occurred around 7:45pm Saturday 19th January 2019 on South Road in Paget, near the Coral Beach Club, where the vehicle involved went off the road.
"The occupants, said to be two 64-year-old men, were both arrested in connection with the incident and inquiries continue regarding the circumstances that led to the crash.
"One of the men was also treated at the hospital for apparently minor injuries and later discharged.
"Anyone with any information – particularly any motorists that stopped at the scene to assist – are encouraged to call Constable Colin Mill on 717-2208 or contact him by e-mail at cmill@bps.bm."
Asked about reports that one of the persons arrested could be a prominent member of the legal fraternity, the police said, "We have no further comment at this time. The BPS does not identify individuals involved in incidents – only if/when a person goes to court in relation to an incident, can someone be officially identified – as it is then part of the public record."
Read More About
Category: Accidents and fires, All, News