ILS Bermuda has announced the appointment of Kathleen Faries as the new Chair and Tim Tetlow as the Deputy Chair of the company.
A spokesperson said, "ILS Bermuda is pleased to announce the appointment of Kathleen Faries as chair of the ILS Bermuda Committee, having served as Deputy Chair since 2015.
"As part of the corporate governance structure with senior leadership rotation of ILS Bermuda, Kathleen succeeds Greg Wojciechowski after his four years as Chair. Kathleen is a founding member of ILS Bermuda and early creator of the successful annual Bermuda Convergence event. She has been a tremendous contributor to the steering committee's outreach, thought leadership initiatives and education objectives since its inception.
"Tim Tetlow has been appointed as Deputy Chair of ILS Bermuda and will work closely with Kathleen on the launch of this year's seventh Bermuda Convergence event to be held on October 9-10, at the Hamilton Princess.
"Bermuda maintains a significant role in the global market as a leader in the insurance-linked securities [ILS] space. The idea of anchoring Bermuda as a centre of excellence for the creation and listing of ILS structures and hosting an event in Bermuda was conceived by ILS Bermuda Ltd., a nonprofit organisation comprised of industry executives working together on a volunteer basis to promote Bermuda's expertise in the industry.
Kathleen Faries and Tim Tetlow: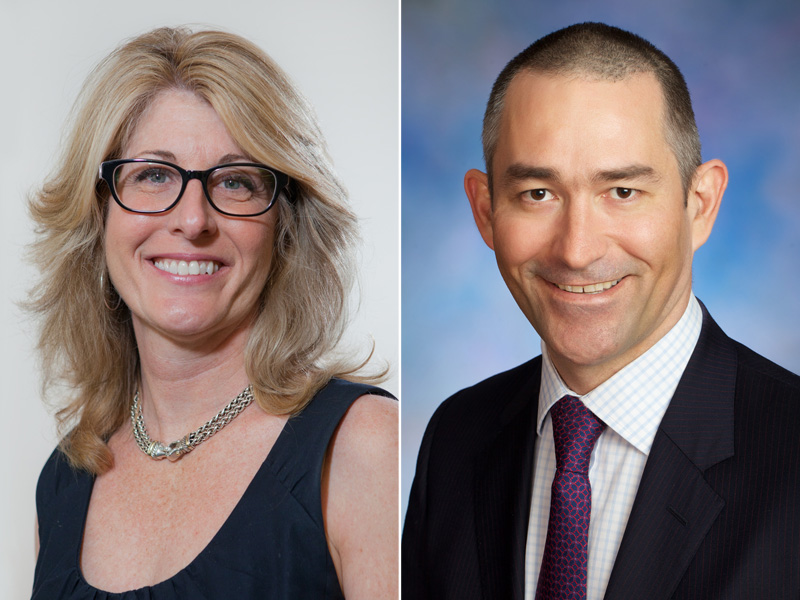 Kathleen Faries, Chair of ILS Bermuda Ltd, and Head of Bermuda Branch, Tokio Millennium Re AG, said, 'It has been a privilege to contribute to the success of ILS Bermuda and our annual ILS Convergence event since our inception in 2013. Over these past seven years we have witnessed the impactful growth of this 'alternative' now referred to as 'partner' capital coming into the reinsurance market.
"With the market now at $90bn, these capital providers have continued to increase and broaden their knowledge of the market and we like to think that our ILS Convergence event, and certainly Bermuda as a world-class reinsurance and ILS jurisdiction, has facilitated this growth and sophistication.
"With 2017 and 2018 combined insured losses of $230bn, representing the most costly two-year catastrophe loss period we have experienced, and with growing pressure on profit margins, the 2019 wind season will prove an important renewal to watch. ILS Convergence 2019 will be held on October 9-10th and will once again host a cadre of important ILS Short talks as well as relevant discussions amongst key market leaders that will provide insights into the future of the market.
"I am excited and proud to take the lead of the ILS Bermuda organisation for the next two years. Bermuda remains an important leader in the ILS and Reinsurance market and the ILS Bermuda team will continue to be at the forefront of promoting and facilitating this leadership and growth. I would like to thank Greg Wojciechowski for his commitment and leadership of the organisation over the past four years and I look forward to continuing to work with him for many years to come as part of our leadership team. Tim and I are committed to maintaining the relevance and impact of the ILS Convergence event going forward."
Tim Tetlow said, "Having directly participated in the expansion of ILS outside of property catastrophe, it is a delight to serve as Deputy Chair of ILS Bermuda as ILS shifts to 'partner' capital from an alternative. I have enjoyed working closely with Kathleen for several years now and I look forward to supporting Kathleen in her role as Chair and continuing to develop ILS Bermuda by working with the committee to facilitate the dissemination of knowledge and expertise which has helped to foster innovation and growth in the ILS asset class."
"Greg Wojciechowski, CEO, Bermuda Stock Exchange, and former ILS Bermuda Chairman, will remain an active member of the ILS Bermuda committee, and is also a board member of the Bermuda Business Development Agency."
Mr. Wojciechowski said, "It is an honour and privilege to have worked with the talented members of the ILS Bermuda committee over the years and I look forward to continuing our commitment to provide a solid commercial platform supported by world class infrastructure and a well-respected regulatory framework, which contributes directly to Bermuda's position as a centre of excellence for the creation, support and listing of ILS vehicles."
"The Bermuda Stock Exchange [BSX] accounted for just over 80% of the global market capitalisation of ILS at the end of 2018 with approximately $30 billion of outstanding volume. The Bermuda Monetary Authority reported at year-end 2018, 28 new Special Purpose Insurers had registered in Bermuda, an increase of over 14% over the previous year. Bermuda continues to maintain its position as the leading jurisdiction for the issuance of ILS. Bermuda continues to maintain its position as the leading jurisdiction for the issuance of ILS."

Read More About