The winter 2019 issue of 'One' — a magazine published by the Aecon Group  — has featured the airport redevelopment project, saying "the project team has been very hard at work, staying on schedule and hitting key construction milestones."
The article said, "Thanks to the precise planning and behind-the-scenes work of the Aecon Concessions group, the Bermuda Airport Redevelopment project has been checking off one milestone after another since the start of construction.
"It's been just over a year since Aecon launched the highly-anticipated Bermuda Airport Redevelopment Project. During that time, the project team has been very hard at work, staying on schedule and hitting key construction milestones on the island's contemporary new airport.
"Over the course of the past year, the largest and most visible advancement on the project has been the construction of the new terminal. Its massive structure has quickly taken shape thanks to the nearly 3,400 tonnes of structural steel the crews have been erecting since December 2017.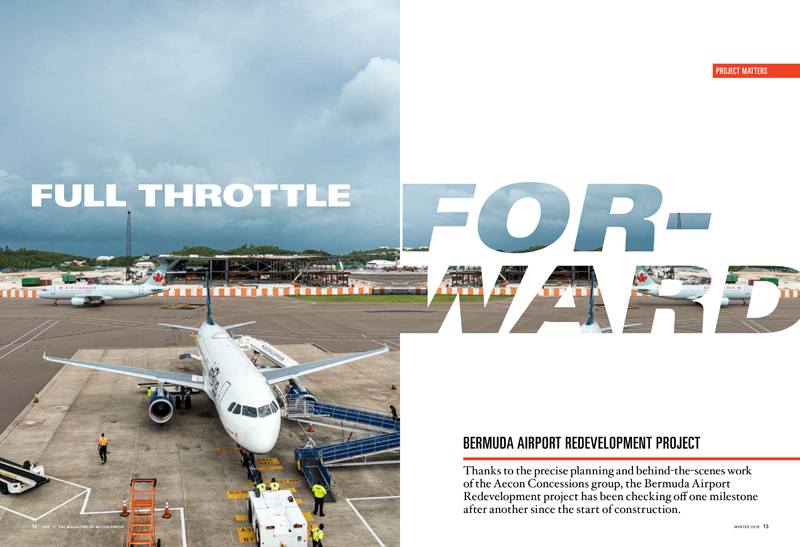 "In addition to the frame of the new building, the team also initiated the curtain wall process. This has entailed the installation of the exterior envelope of the building, which is comprised primarily of hurricane-resistant glazing.
"As a result, the outside of the new terminal will be both visually attractive and offer an exposed, airy feel. The installation of the final piece of the puzzle, the terminal's roof, has also begun and is expected to be finished by early 2019. The terminal itself will open in 2020.
"The on-time completion of the structural steel was a significant milestone for us," says Aecon Project Director Conor Smyth. "The efforts made by our Bermudian contractors, Benson Steel and Correia Construction, have been tremendous, considering that six weeks of installation time was lost to Bermuda's challenging weather. Most importantly, the steel installation was completed safely, without any lost time injuries."
"From the outset, one of the main objectives on this project was to engage the local community in as many aspects as possible and to the fullest extent. With the combined efforts of the Aecon-led construction team and Skyport — the separate Bermudian entity created to carry out the overall project — the majority of the workforce is and continues to be Bermudian.
"To date, the project's workforce consists of 70-per-cent local workers, which is a tremendous accomplishment and has a large and positive impact on a country like Bermuda," says Aecon Concessions President Steve Nackan. "We've exceeded all targets in terms of local employment and the extent to which we've engaged local companies, both in construction and in operations."
You can read full magazine here [PDF].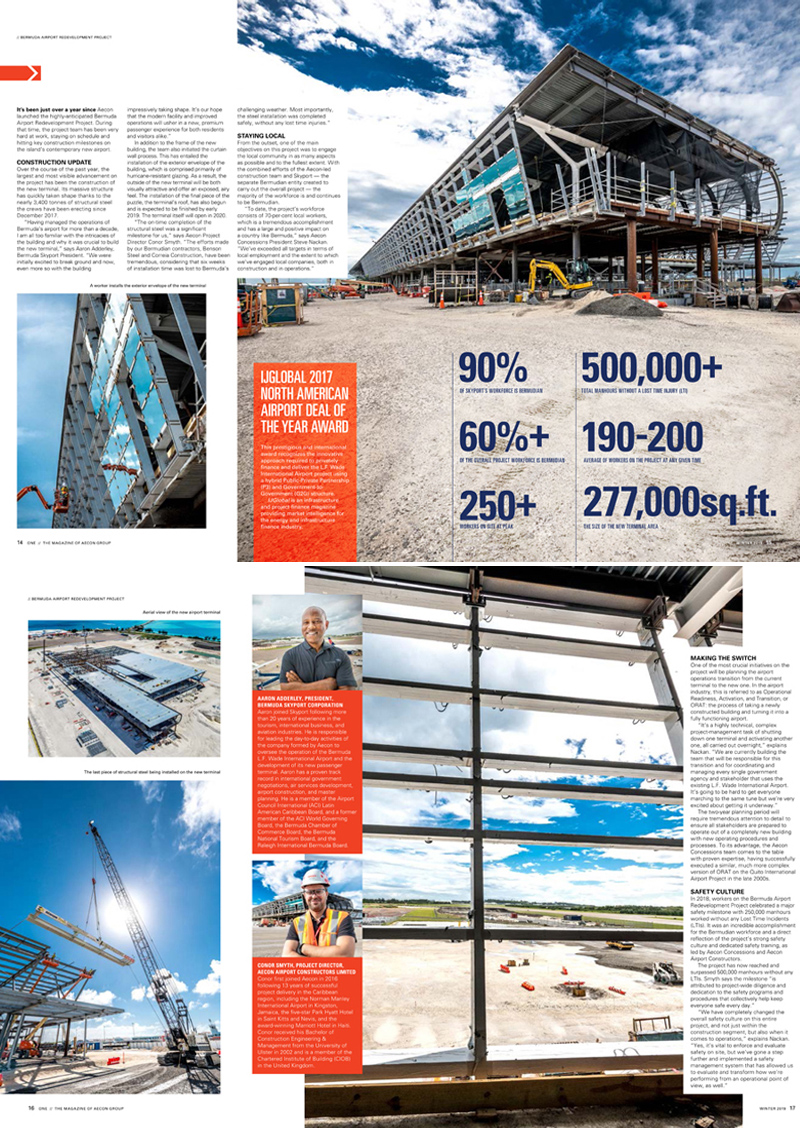 Read More About