Bermuda Gymnastics has had a very busy start to the season as their competitive team attended three major Invitationals off the island over the last two weeks.
More than 24 gymnasts took the opportunity of a mid-term school break to attend up to three competitions as well as several overseas practice sessions; in order to gain experience and test their mastery of current levels as each athlete strives to continue challenging higher competitive levels.
Overall the Bermuda Gymnastics Team, which trains at the National Training Centre in St. David's, performed extremely well on the international stage.
The first competition was called Chicago Style and held at the Navy Pier in Chicago, IL. This is the largest women's gymnastics Invitational in the World. Bermuda Gymnastics had 13 athletes competing and finished the competition with 4 podium medals. Eleven year old Ella Younie placed highest amongst her teammates taking home the title of Level 6 Floor Champion and a strong 2nd overall.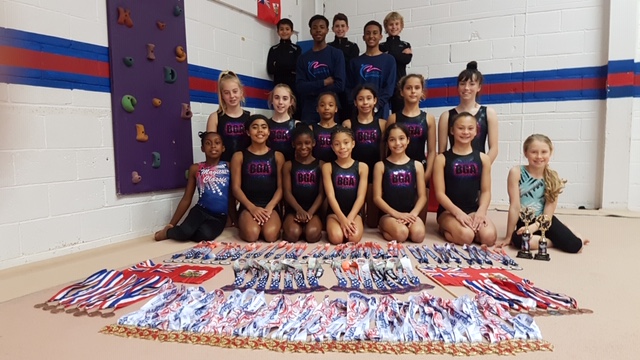 Team members met up with additional gymnasts from Bermuda in Orlando, including boys aged 8 -16, for an equally good showing at the Presidential Classic held at the ESPN Wide World of Sports Facility. Presidential is the 2nd largest combined event in the USA.
A total of 24 medals were garnered by the Bermuda Team. Highlights included 6 gold medal finishes over the 4 day competition: Ella Newton – Floor; Azalea Pontes – Bars; Tse Burgess – Beam; Bethany Cooze – Floor; Sanaa Simmons – Bars; Ben Mello – Vault. In addition, the following earned overall awards in their respective categories: Tse Burgess – 3rd overall; Bethany Cooze 2nd overall; Ella Newton 3rd overall.
The final competition, the Magical Classic, was also held in Orlando and hosted over 2000 athletes from around the world. Bermuda once again earned podium medals [11 total] with three gold medal finishes on vault by: Bethany Cooze; Tse Burgress; and Sanaa Simmons in their respective age groups. Bethany Cooze also finished 2nd overall in level 6; and Tse Burgess – 3rd overall in level 7.
Head Coach, Adriana Forde, said "Some of my favourite moments this weekend were not the Gold medals but the team comradery, improved attitudes and scores from athletes that had sub-par warm ups or performances the day before and came back focused and wanting a chance to show everyone what they could really do". Only one more overseas competition remains before the gym hosts its own international event [BIG Challenge 15-18th March 2019]. Seven athletes will be in Tampa Florida at the Gasparilla Gymnastics Classic 22-24th February 2019."

Read More About