Bermuda Cancer and Health Centre has been awarded accreditation in radiation oncology by the American College of Radiology [ACR], making the local not-for-profit the first international facility to achieve this recognition.
ACR accreditation is a voluntary process that demonstrates Bermuda Cancer and Health Centre's commitment to excellence in patient care and safety.
"The Centre provides radiation therapy, in clinical affiliation with Dana-Farber/Brigham and Women's Cancer Center, and can treat 95% of all cancer where radiation is a recommended treatment course, meaning that the majority of residents no longer have to travel overseas for radiation treatment and pain management. People can be confident that they are receiving world-class treatment right here at home," a spokesperson said.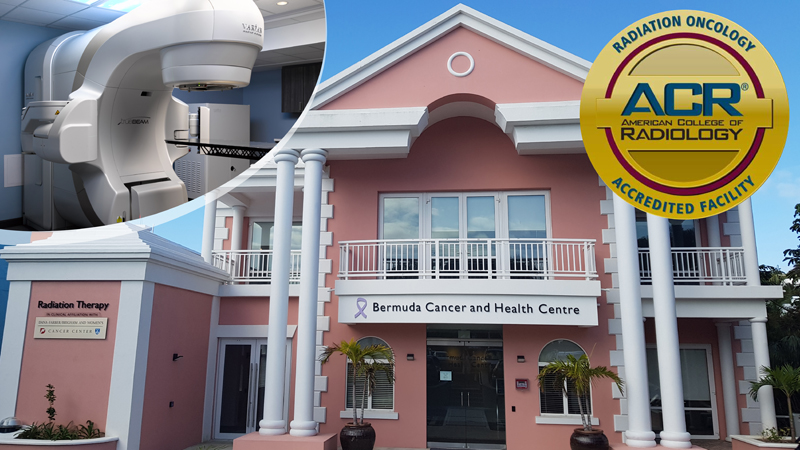 "This is a tremendous accomplishment for our Centre and is a testament to our commitment to the highest quality of care for our patients," explains Dr Chris Fosker, Medical Director and Radiation Oncologist at the Bermuda Cancer and Health Centre.
"By voluntarily undergoing this rigorous review, we secure a high level of confidence for not only our patients but also referring physicians."
The radiation therapy unit, which opened in May 2017, elected to undergo the rigorous ACR process to provide a means of comparing themselves against international best practice standards.
The Centre noted that "patients are the number one priority; it is essential to demonstrate that people are cared for by highly qualified, caring staff and that the highest standards are met when administering radiation therapy treatment."
"Being recognised for meeting internationally accepted radiology standards is an outstanding achievement that supports our initiatives to improve outcomes and ensure patient safety, but also our mission to provide the highest standard of early detection and radiation treatment, support, care and education for cancer and other diseases for all," added Lynne Woolridge, Chief Executive Officer.
"It's important for patients to know that every aspect of the ACR accreditation process is overseen by board-certified, expert radiation oncologists and medical physicists," the Centre said.
"The ACR seal of accreditation represents the highest level of quality and patient safety. It is awarded only to facilities meeting specific Practice Guidelines and Technical Standards developed by ACR after a peer-review evaluation by board-certified radiation oncologists and medical physicists who are experts in the field.
"Patient care and treatment, patient safety, personnel qualifications, adequacy of facility equipment, quality control procedures, and quality assurance programs are assessed. The findings are reported to the ACR Committee on Radiation Oncology Accreditation, which subsequently provides the practice with a comprehensive report they can use for continuous practice improvement."

Read More About