[Written by Don Burgess]
A Bermudian woman has completed the "world's toughest row" to help reduce plastic in the ocean and save marine life.
Jessica Rego was part of a three-woman team that took on the Talisker Whisky Atlantic Challenge and rowed 3,000 miles from San Sebastián de la Gomera in the Canary Islands to Nelson's Dockyard in Antigua.
After reaching their goal, the team posted online saying, "We did it! 61 days, 8 hours and 47 minutes after leaving La Gomera, we reached Antigua!"
Ms Rego said it took a while before Susan Ronaldson and Caroline Wilson talked her into it back in September 2017. They then spent more than a year preparing to accomplish this goal.
Photo via Status Row social media: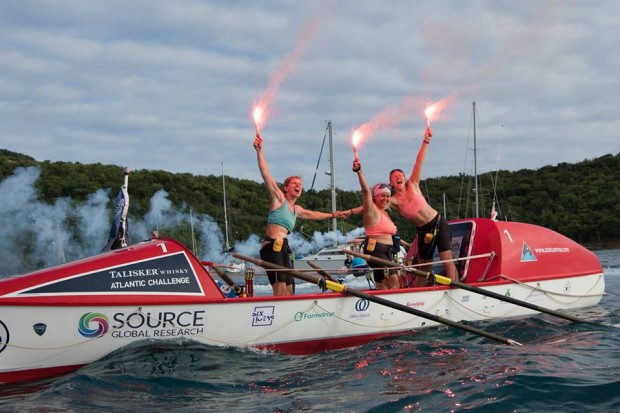 Ms Rego told Bernews, "It took the girls a while to convince me to take part. I've never been particularly sporty or a fan of open water, but when I looked into the race and saw what a huge platform it could be for charitable fundraising.
"We are all passionate about the environment and especially on reducing ocean plastics, so we rowed in support of the Marine Conservation Society's Clean Seas programme.
"Through the race we've had such a larger impact than we ever could have alone and that makes all of the pain and time at sea completely worth it."
She described that even with all the training "nothing can truly prepare you for rowing an ocean; the days were simply endless. It's probably the most painful, tedious activity we could have picked. Whether it's the heat, salt sores or mental fatigue there is just no escape.
Photo by Ted Martin via Atlantic Campaigns page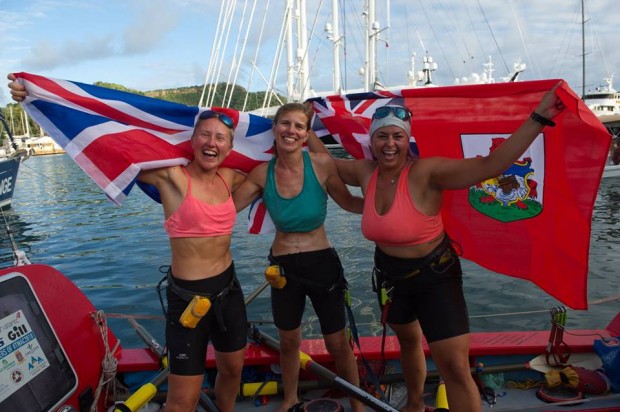 "But on the flip side, there's also nowhere else that we could go to sleep surrounded by the stars and wake up to a pod of whales following us.
"I think I had the very worst and the very best days of my life out there. It's more about endurance than rowing — each day you just have to get through it, one stroke at a time until you reach the other side.
Ms Rego said the best part of the experience was seeing all the ocean life.
"We were very lucky to see several whales up close, get followed by a pod of dolphins and even circled by an eight-foot shark. This is a wonderful reminder of how important it is to protect our oceans and the creatures that call it home."
Video of their arrival in Antigua:
For those wishing to find out more about Ms Rego's journey or about the Marine Conversation Society's Clean Seas programme can to the team's blog at www.statusrow.com.
She urged people to make small everyday changes to help reduce their negative impact on the ocean.

Read More About