Sargasso Sea Ltd has announced that it has continued its expansion of restaurants and delivery capabilities with the addition of J&B's Wood Fired Pizza and expanded late-night delivery with Buzz Hamilton.
A spokesperson said, "Phase one of the launch has been focused on restaurant delivery only. Five restaurants, Buzz, Fryday's, Salty Lime, Jamaican Grill and The Flame, are currently on the platform.
"Deliveries for the restaurants are available seven days a week from 11:00 am to 11:30 pm. In addition, Jamaican Grill deliveries are also available until 4:00 am on Fridays and Saturdays. Starting Friday, February 1st, Sargasso will be expanding their late-night delivery services with Buzz until 2:00 am, 6 days a week and on Monday until 11:30pm.
"Soon joining the five other restaurants announced earlier this month will be J&B's Wood Fired Pizza. This Super Bowl Sunday, customers will be able to order a variety of pizzas from J&B's for delivery.
"However, don't expect to be able to order and pick it up yourself. The only way to get J&B's this Sunday will be exclusively through the Sargasso Sea App. Moving forward, J&B's will then transition their deliveries through the Sargasso Sea App over the upcoming weeks."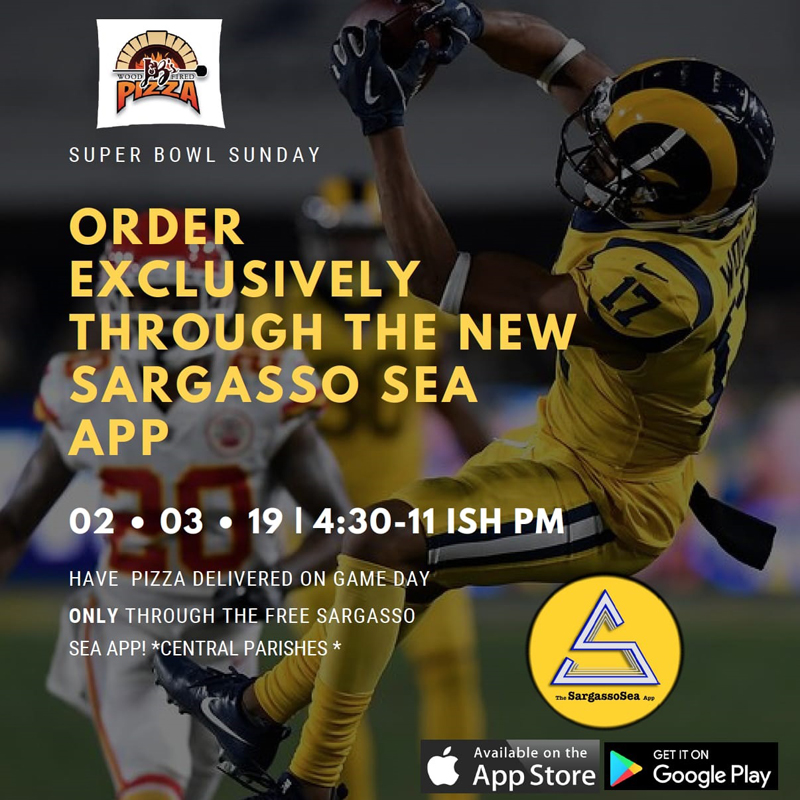 "We are very pleased by how quickly our business has taken off," said Colin Rego, Founder and President of Sargasso Sea Ltd.
"Since our launch three weeks ago we have more than doubled our deliveries and have seen a number of businesses reaching out to us, wanting to be a part of our platform. In fact, we will be expanding again with the addition of OM Juicery and Brew in the coming weeks. Stay tuned for more restaurants and other businesses coming soon."
"Deliveries are available in the Central Parishes [Pembroke, Paget, Devonshire, and some parts of Warwick]. With this latest expansion, Sargasso's delivery capabilities are also now available in Smiths.
"The company expects to launch more aspects of the marketplace and expand their deliveries to the rest of the island in the next six months. Customers can download the app from the App Store or Google Play and order today."
Mr. Rego said, "We extend a huge thanks to local artist and designer Moss. Over the past few months, we have collaborated to create a number of amazing designs and illustrations throughout social media and application content. You can follow @mossbda and @sargassoseabda on Instagram and Facebook for new and exciting collaborations."
Read More About
Category: All, Business, Entertainment