[Updated with video] Bermuda College mathematics lecturer and tutor, Mr. Troy Ashby is claiming another Bermuda record for memorisation of digits behind Pi at 12,000.
In celebration of World Pi Day, today, Mr. Ashby topped his previous personal best of 6,200 by memorising and writing 12,000 digits to the right of the decimal. He did so with 99.95% accuracy, in the tiring 10-hour achievement, independently verified by several witnesses.
Mr. Ashby filled all four walls of the Bermuda College Art Gallery. His work will be on display for public viewing, weekdays at the Gallery, located on the second floor of North Hall, until Friday, March 22 at 5 p.m.
Humble about his success, he said he believes it is innate to challenge oneself. He has no plans to stop at the personal milestone, but believes he still has the capacity to memorise more, noting that the Guinness World Record for memorisation of Pi is currently over 70-thousand digits.
"For me, originally, it was memorising digits behind Pi as an exercise for Pi Day. I thought it would be interesting to try it myself," referring to his first attempt five years ago at the memorisation of 1,000 digits.
"To achieve what may seem impossible, is a great thing and a great feeling. I'm pretty sure that if I can do it, others can. You can train your brain. Once it has gotten used to it, it almost becomes routine to just keep adding additional numbers. It might even inspire others to do the same, and go even further."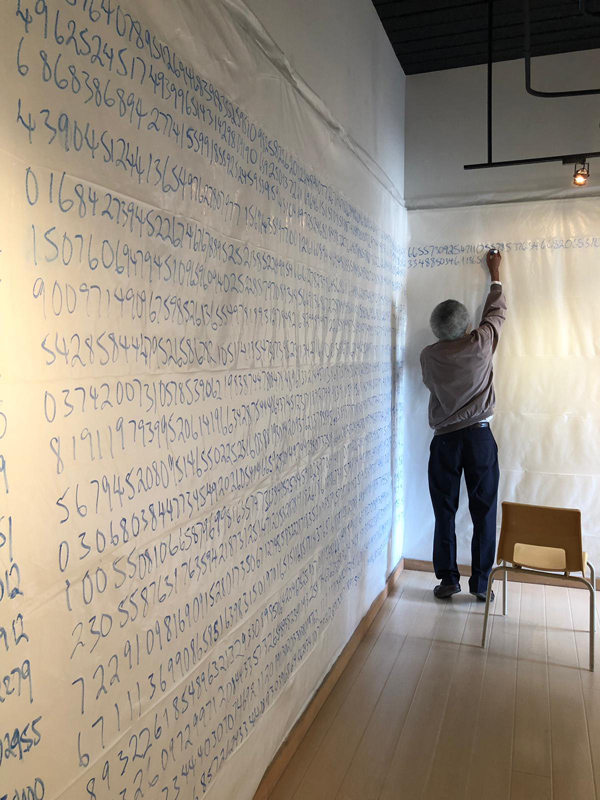 Pi, or π, is the ratio of a circle's circumference to its diameter. Because it is irrational, it cannot be written as a fraction. Instead, it is an infinitely long, nonrepeating number. Pi digit memorisation is one of many memory feats performed internationally.
"My hope is to establish two distinct records in Pi digit memorisation in Bermuda, and possibly the Caribbean; one for writing out the digits; the other for reciting , which involves slightly different rules. I hope to break my own record next year."

Read More About