[Updated] The Bermuda Police Service [BPS] is holding a press conference this morning [March 8] to highlight the winners of their International Women's Day essay competition.  We will have additional coverage later on and in the meantime the live video is below.
Update: The live broadcast has concluded and the 8-minute replay is below
Update 1.54pm: A police spokesperson said, "On this International Women's Day, we are proud to announce the 8 female student authors whose 'What does female empowerment mean to you?' 200 word short essays were chosen as the best in our #IWD2019 contest!
"They are:
Aaliyah Lee – The Berkeley Institute
Amirh Wade – The Berkeley Institute
Emilia Stowe – The Berkeley Institute [not pictured]
Alexis Lodge – Bermuda High School
McKenzie-Kohl Tuckett – Warwick Academy [not pictured]
Katarina Rance – Bermuda High School [not pictured]
Kimora Waddell-Smith – Clearwater Middle School
Marley Brown – Bermuda Institute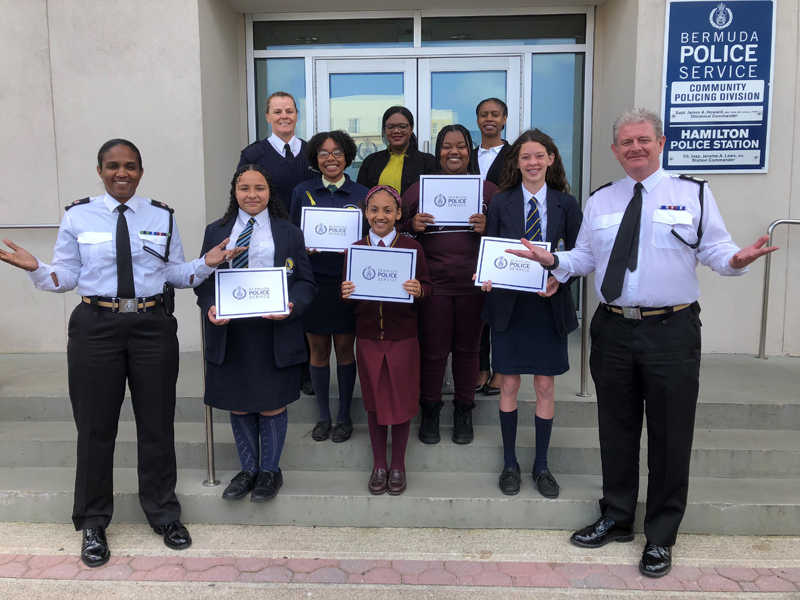 "There were 6 senior school winners [from The Berkeley Institute, Bermuda High School & Warwick Academy] and 2 middle school winners [from Clearwater Middle School & Bermuda Institute].
"The young ladies met Commissioner of Police Stephen Corbishley and were given a behind the scenes look at the operation of the Bermuda Police Service by four women in positions of leadership within the organisation – Superintendent Na'imah Astwood, Inspector Tracy Burgess, Detective Inspector Derricka Burns & Detective Inspector Karema Flood.
"We thank all students that entered – their essays showed great insight and a commitment to #BalanceforBetter!"
Read More About