Her Majesty Queen Margrethe II of Denmark has appointed Michael Schrum Honorary Consul for the Kingdom of Denmark in Bermuda, effective 7 November 2018.
In this capacity, Mr. Schrum will represent Danish interests and assist Danish citizens in Bermuda, liaising with the Embassies of Denmark in Washington and London as required. Mr. Schrum replaces Bent Poulsen, who has retired after 14 years as Honorary Consul.
Concurrently with the above change, the Royal Danish Consulate in Bermuda has moved to a new location in Hamilton:
Michael Schrum, Honorary Consul
Royal Danish Consulate in Bermuda
c/o The Bank of N.T. Butterfield & Son Limited
65 Front Street*
Hamilton HM 12, Bermuda
Tel: +1 [441] 298 4758 / +1 [441] 524 3050
E-mail: Danishconsulate@schrum.bm
*Access through Reid Street Entrance of Butterfield building. By appointment only.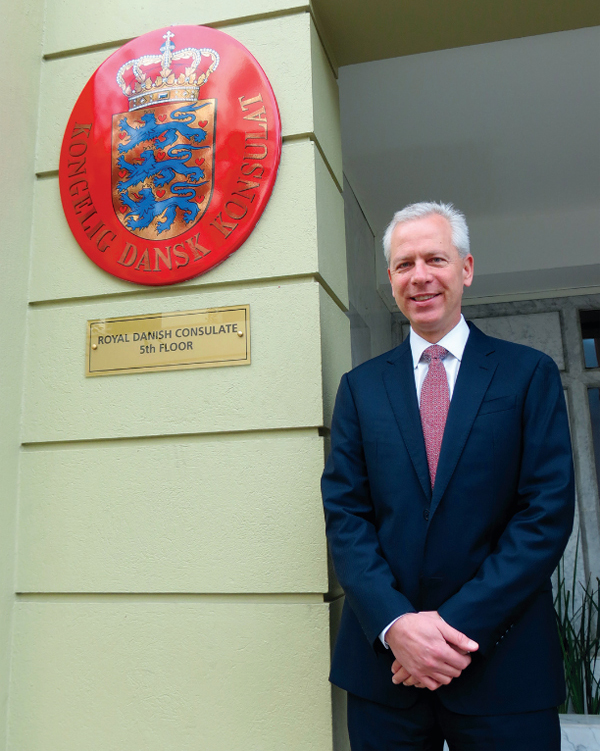 Mr. Schrum is Group Chief Financial Officer at Butterfield since September 2015. He was previously CFO at HSBC Bank Bermuda. Mr. Schrum has more than 20 years of financial services experience in London, New York and Bermuda, mainly in banking, insurance and tax.
He joined HSBC in Bermuda in 2001 and held progressively more senior positions within the bank's Commercial Banking, Strategy, and Finance divisions. He is a Chartered Financial Analyst and a Fellow of the Institute of Chartered Accountants in England and Wales. Mr. Schrum holds Master's [University of London] and Bachelor's [Southern Denmark Business School] degrees in Economics.
The acting Danish Ambassador to the US, Henrik Bramsen Hahn, "We are pleased to welcome Michael as Honorary Consul in Bermuda, and we look forward to working closely with him to provide consular services to Danish citizens on the island.
"I would also like to thank Bent for his many years of consular services in both Indonesia and Bermuda. For the last 14 years, Bent served as an excellent representative for Denmark and its citizens in Bermuda through his consular and business affairs, and his involvement in the community. We will miss him."
Read More About