The Customs Tariff Amendment Bill proposes to increase the duty rate to 75% for items affected by initial launch of sugar tax in April 2018, and also apply a 75% sugar tax to chocolate items containing added sugar.
Speaking in Parliament on Friday, Minister of Health Kim Wilson said the Customs Tariff Amendment Act 2019 [PDF] proposes to increase the duty rate to 75% for food and beverage items affected by the sugar tax on 1 April 2018, and apply the above-mentioned duty rate to chocolate and cocoa preparations containing added sugar.
Screenshot from the Customs Tariff Amendment Act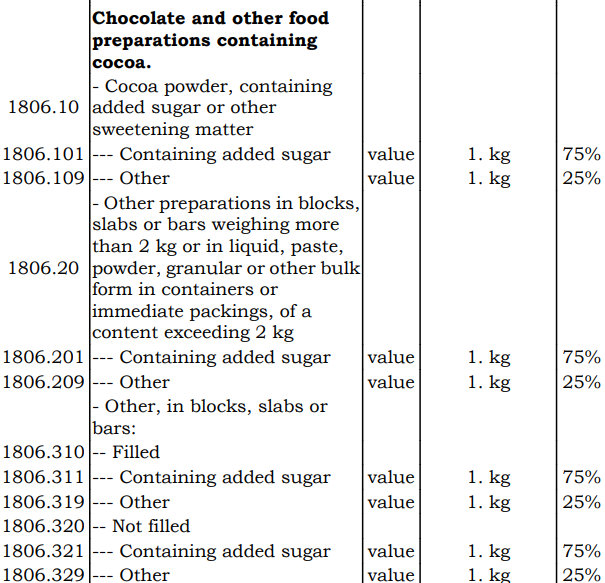 "I will be proposing an amendment on the floor to remove breakfast cereals from the items that would have been subject to the sugar tax in the Bill as Tabled," the Minister said.
"This decision followed consideration of additional feedback received and it was determined to postpone their inclusion until the tariff code can differentiate between high-sugar cereals and healthy breakfast cereals.
"In June 2018 the Government introduced, as promised in the Throne Speech and the Budget Statement, an increase in the duty rate on sugar sweetened beverages, candies and pure sugar. These proposals were outlined in detail in in the Ministry of Health's Sugar Tax Consultation document and subsequent reports.
"I advised my Honourable colleagues in June 2018 that Bermuda's new sugar tax would be phased-in gradually. Today it is proposed to raise the duty rates on the said items to 75% from 1st April 2019.
"On 1st October a 50% duty rate was implemented on the said items as part of a transitioning phase. In addition to the full 75% duty rate implementation, chocolate is proposed to be included in the tariff as of 1st April 2019, also at the 75% sugar tax rate."
The Health Minister added, "It is estimated that currently diabetes and kidney disease account for 10% of the country's total health spending. This means just 2 lifestyle-induced, preventable conditions are costing us $78 million dollars. This has to stop. The sugar tax is an important part of the measures needed to change choices and behaviour."
"The Government has eliminated duty on potatoes, cauliflower, broccoli, turnips, carrots, oranges and apples to further support healthier nutritional choices, showing this Government is absolutely committed to improve our diets."
The Minister's brief follows below [PDF here]

Read More About