Loud cheers could be heard at the airport tonight [March 22] as friends and family gathered to welcome Bermuda's athletes home, with the team returning after making an excellent showing at the Special Olympic World Games in Abu Dhabi.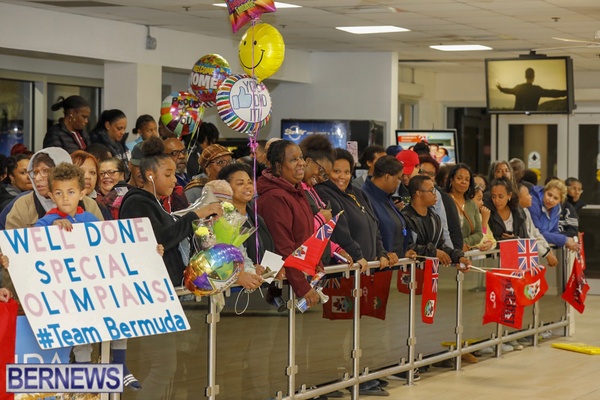 Bermuda's 13-strong team competed in track and field, tennis, bowling and equestrian, joining approximately 7,500 athletes from almost 200 nations at these World Games, with the island's team making a tremendous showing in all areas.
These Games had eight places on the podium, and Bermuda won almost 20 medals with 3 silver, 5 bronze, as well as fourth, fifth, sixth, and eighth place medals.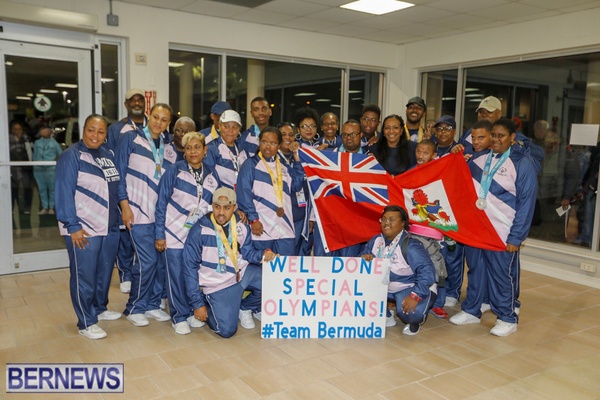 Speaking in front of the crowd of enthusiastic Bermuda flag waving supporters, Minister of Labour, Community Affairs and Sports Lovitta Foggo noted the team did the island proud on the world stage, reading out each athlete's placing, with each member of the team receiving loud applause from the crowd.
"Thank you to our Special Olympians," Minister Foggo said. "We could not have asked for a better performance."
Bermuda's medal winning team included Kirk Dill, Del-Che Landy, Kristopher Trott, Damon Emery, J'Naysha Maloney, Danielle Gibbons, Solay Thomas, Carlton Thompson, Wayne Smith, Tiannai Lowe, Micah Lambert, Bridget Marshall, and Eden Woollery.
Read More About