Bermuda Onion Day events are set to be held at Carter House in St. David's on Saturday, May 18 from 12.00pm to 4.00pm.
"The onion is the pride and joy of Bermuda. It is her jewel, her gem of gems. In her conversation, her pulpit, her literature, it is her most frequent and eloquent figure…it stands for perfection absolute. The Bermudian weeping over the departed, exhausts praise when he says, 'He was an onion!' The Bermudian extolling the living hero, bankrupts applause when he says, 'he is an onion!' The Bermudian setting his son upon the stage of life to dare and do for himself, climaxes all counsel, supplication, admonition, comprehends all ambition, when he says, 'Be an onion!'" — Mark Twain
The event poster says "So come and be an onion! Enjoy a variety of St. David's onion dishes including the delicious onion quiche. Admission is free [donations kindly accepted]. Food tickets are $5 each; a raffle draw takes place at 3:15pm.
"We will have a surprise visitor for the kids and an official unveiling of two historic museum acquisitions at 3pm.
"While at the Carter House, please take a look at the progress of our site restoration project, with nine new endemic/native species to add to our 23 species and the return of the Spanish Bermuda tobacco which was found on the island by the Sea Venture castaways during the year 1609.
Games:
Largest Onion Competition at 3:05pm
Onion Eating Contest at 3:10pm
Sale:
Unique 1964 silver crowns mounted in Cedar with histories of the crown: $50
Numbered prints of a painting of Carter House by RD Spurting: $50 each
Carter House note cards: $5 for 6 or $1 each
Food/onions to purchase
2020 St David's Island Calendar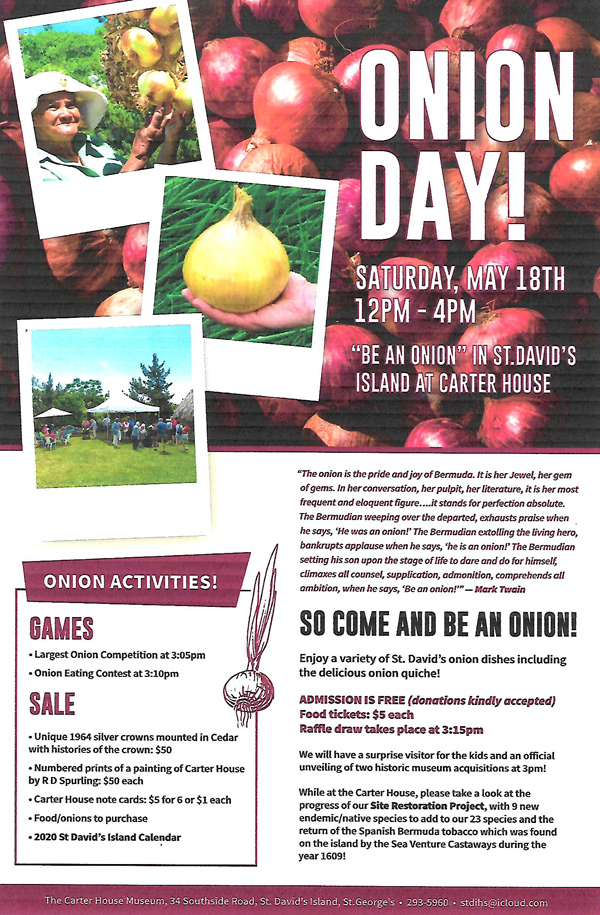 Read More About
Category: All