In a filing with the Bermuda Stock Exchange [BSX], the Bank of Butterfield announced it has entered into a definitive agreement to acquire a Channel Islands-based banking business.
The filing stated: "The Bank of N.T. Butterfield & Son Limited, a leading offshore bank and trust company headquartered in Bermuda with significant operations in the Cayman Islands and Channel Islands, today announced that it has entered into a definitive agreement to acquire ABN AMRO [Channel Islands] Limited ["ABN AMRO Channel Islands"], the Channel Islands-based banking business of ABN AMRO Bank N.V. through its wholly owned subsidiary, Butterfield Bank [Guernsey] Limited, a company incorporated in Guernsey ["Butterfield Guernsey"].
"The aggregate purchase price is approximately £161 million in cash [US$208 million], subject to certain purchase price adjustments.
"The transaction combines two leading banking operations in the Channel Islands to create an organization with a widened and diversified offering, as well as the ability to service a broader array of clients around the globe.
"With the acquisition of ABN AMRO Channel Islands, Butterfield will significantly expand its presence in Guernsey and Jersey. For ABN AMRO Channel Islands, the transaction will bring the benefits of a more extensive loan product offering, as well as the opportunity to extend its service offering to the private equity and insurance industries."
Michael Collins, Butterfield's Chairman and Chief Executive Officer, said, "In ABN AMRO Channel Islands, we have found an ideal partner through which to expand our core Channel Islands banking business. This acquisition is another important step in our strategy to grow through acquisitions in the highest quality offshore markets where we have scale and expertise.
"It underscores our continuing commitment to expand Butterfield's presence in the Channel Islands and the importance of these two jurisdictions to our multinational clients. ABN AMRO Channel Islands brings a conservative risk management culture, similar to that of Butterfield, and will contribute both management talent and sales expertise to our combined business.
"This represents an excellent opportunity for clients and employees, and we look forward to welcoming our new colleagues to Butterfield. Together, we bring long histories of client service at the highest level."
"Established in Guernsey for over 35 years, ABN AMRO Channel Islands today offers well-established banking, investment management and custody products to three distinct client segments, including trusts, private clients, and funds. As at December 31, 2018, ABN AMRO Channel Islands has a well-balanced client base with £2.9 billion in deposits and £3.5 billion in assets under management and custody. Highly regarded and recognized for its excellent client service, ABN AMRO Channel Islands is committed to the highest levels of compliance and finding bespoke solutions that meet the evolving needs of its clients.
"The transaction is anticipated to close during the third quarter 2019, subject to regulatory and other customary closing conditions. After the Closing, ABN AMRO Channel Islands business and employees will be integrated with the existing Butterfield Guernsey operations and operate under the Butterfield name."
Transaction Highlights: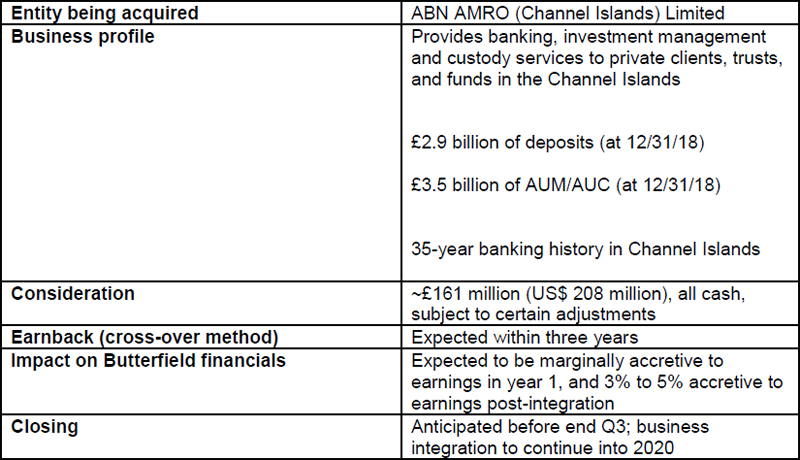 Read More About