The Government and Bermuda College have officially launched the first app created by their partnership; the new Government Notification Application, which has been named 'Tree Frog'.
Premier David Burt said, "In 2017 this Government made a promise, to put education and workforce development at the top of our agenda, and in our election manifesto, we said that we would: Collaborate with Bermuda College to promote mobile application development skills by having students design, maintain and enhance mobile apps that make government better and more efficient.
"This practical work will provide real-world experience to our students, will make government services more convenient, and will benefit the college as the applications developed could be licensed to other governments worldwide.
"The apps developed will help our government relay information to its citizens and allow residents to communicate issues to the government."
"Less than 2 years later, I am here at the Bermuda College to officially launch the first app created by that partnership – the new Government Notification Application, which is called 'Tree Frog'.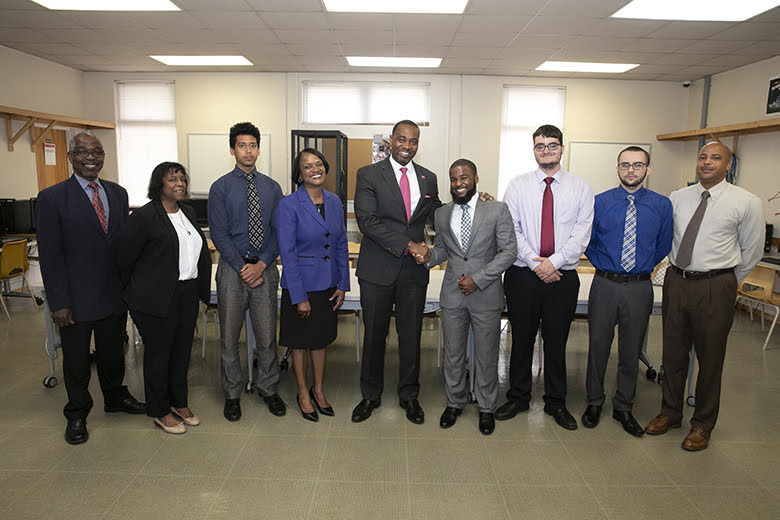 "Let me acknowledge and thank, the President of the Bermuda College, Dr. Duranda Greene, Vice President, Academic and Student Affairs, Dr. Trescot Wilson – Dean of the Division of Business, Hospitality & Technical Education, the four students who worked diligently with app developers to create a uniquely Bermudian app. – Diogo Mota, Kevin Da Costa, Randall King and Seth Samuels; their Computer Information Systems lecturer Mr. Michael Simmons; and the Government team who also assisted with this project.
"This is just the beginning…I had a chance to visit the students in February. The pledge that I made to them at that time was that this will not be the end of their experience. I want the Bermuda College to be a place where the Government's vision of our young people learning how to build mobile applications becomes a reality.
"Some of them had prior experience, others did not, but they were determined to learn, and guided and supported by their instructor and the technology vendor, they have worked hard to help produce something that we can be proud of.
"The Tree Frog App will enable the Bermuda Government to enhance our ability to inform Bermudians about news, alerts, information and events – all in real-time – via a free mobile application which can be downloaded from the App Store or Google Play.
"Tree Frog will send notifications to mobile devices based on notification categories, turned on and off by the user.
"The app categories include; school notifications; updates on government services; emergency weather notifications; and bus and ferry service updates; etc. All notifications will be issued to the public immediately after they are posted on the Government Portal.
"This project is a testament to the talent we have in Bermuda and the vision this Government has for creating new opportunities for our youth, creation of jobs in this economy and providing opportunities to Bermudians first. It was a promise we made to the voters and it is a promise we have kept.
"This Government believes that upgrading the skills of Bermuda's labour force through a solid workforce development plan is critical to our long-term prospects for broad-based and inclusive economic growth.
"The Government will continue to invest in all of our people, but especially our young people, so that no one is left out of the success that we are working to bring to the Island.
"That is the reason that starting next year every public school graduate with a 3.0 GPA or better will be able to attend the Bermuda College free of charge.
"And, that is why in the last 2 years, 500 Bermudians, young and not so young, have been able to upgrade their skills or earn a degree at the Bermuda College due to new financial aid grants to ensure that the size of your bank account does not restrict your access to higher education.
"Today, we are witnessing what our young people can do if given this opportunity.
"You may wonder about the name of the app – Tree Frog. During a brainstorming session, the students came up with the name. Tree Frog, when you think about it, it is an appropriate name for a Bermuda news and information app. It is uniquely Bermudian and can be heard from one end of the island to the other.
"Though today is the launch, this is just the start of this project. The Tree Frog app will evolve, and I am relying on these young men to make that a reality. I ask Bermuda to support these young men, by installing and sharing this application.
"The Government will purchase the development tools used to develop Tree Frog and provide support to the Bermuda College to upgrade this lab and provide these 4 young men, and others who want to learn, additional opportunities to expand their horizons in application development.
"This government makes no apologies for investing in our young people, preparing them for a future in technology. On behalf of the Government and the people of Bermuda, I want to say congratulations on a job well done."

Read More About
Category: All, technology