A new Aide-de-Camp to the Governor has started his tour of duty at Government House.
Lieutenant Alex Gibbs of the Royal Bermuda Regiment took over the role of Governor John Rankin's right hand man from Captain Paolo Odoli, who is standing down after more than three years in the job.
Lt Gibbs, who was commissioned in 2016, said: "It's a massive honour because it's a personal selection by the Governor. I feel very fortunate.
"It's quite early in my Regiment career as an officer to have reached this point."
Lt Gibbs, 28, was conscripted into the RBR as a private in 2011, but took a break to study economics at the University of West England in Bristol in 2012 and returned to Warwick Camp in 2014.
Handover: Capt. Paolo Odoli [left] the former Aide-de-Camp to Governor John Rankin and Lt Alex Gibbs, who has taken over the role.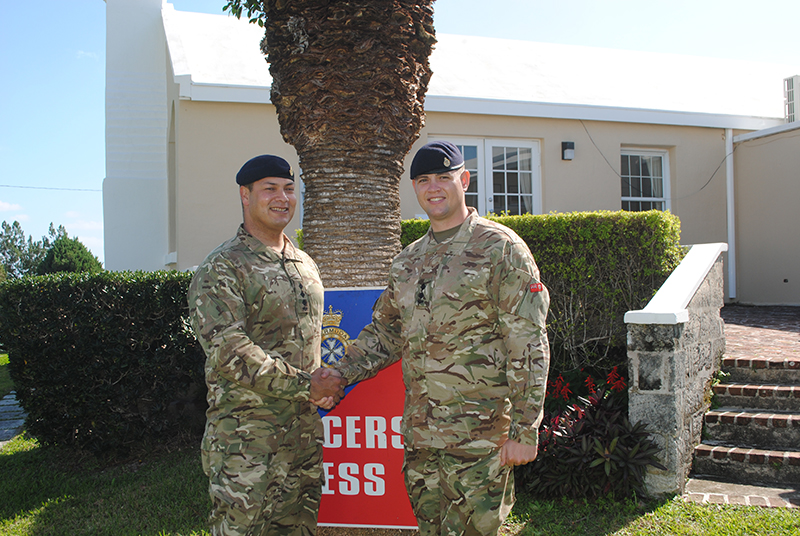 He admitted: "Joining the RBR was maybe not something I would have done voluntarily but, having been conscripted, I decided to make the most of the opportunity.
"Eight years later, I'm in full-time employment with the Regiment and loving every minute of it."
Lt Gibbs added one of his first jobs in his new role was to accompany Mr Rankin on visits to the island's three mosques in the wake of a white supremacist terror attack on Muslim worshippers at two mosques in Christchurch, New Zealand last month, which left 50 people dead and 50 more injured.
Lt Gibbs said: "As a Bermudian, I have already got exposure to different parts of the island I wouldn't necessarily have been exposed to.
"It's certainly broadened my horizons and given me a realisation of how diverse our country is."
Capt. Odoli, 34, who will now assume the post of Adjutant at Warwick Camp, said he had enjoyed the ADC job.
He added: "Some of the highlights for me were being able to serve in the Regiment in a very public facing capacity.
"The job involves facilitating the Governor's participation in a lot of high profile events."
He added that a major memory was the visit of the Princess Royal, Princess Anne, to the America's Cup in 2017.
The ADC is the personal Staff Officer to the Governor and is responsible for security, transport and logistics, as well as the day to day running of Government House.
Capt. Odoli said ADCs also played a valuable role in helping a new Governor acclimatise to the island and its culture.
He added: "The job is really important in terms of representing not only the Regiment, but also the country in a role that's recognised in Bermuda and overseas.
Capt. Odoli, who was conscripted into the RBR as a private soldier in 2009, said he had never expected to hold the job of ADC.
He added: "It was certainly not the plan. But I was a bit older than most of the recruits and made a decision early on I would make the most of my time in the Regiment.
"I was determined to seize every opportunity to come my way and every chance I was given to improve myself."
He added that he had taken part on attachment in major exercises in Canada and Kenya, as well as completing several overseas courses, including the Intermediate Command and Staff Course at the world-renowned Defence Academy of the United Kingdom.

Read More About