This year's Peppercorn Ceremony on April 24 will be enhanced with a VIP package, offering visitors a cultural experience they can't get anywhere else, the BTA said, explaining that the package created high demand among visitors in 2018, nearly selling out in its pilot year.
"The Peppercorn Ceremony VIP package sold very well last year and the visitor feedback was very positive," said Bermuda Tourism Authority Product Development Manager Tashae Thompson.
"With a few additional tweaks for 2019, we will give visitors a memorable experience as St. George's shows off the island's distinctive blend of modern and traditional."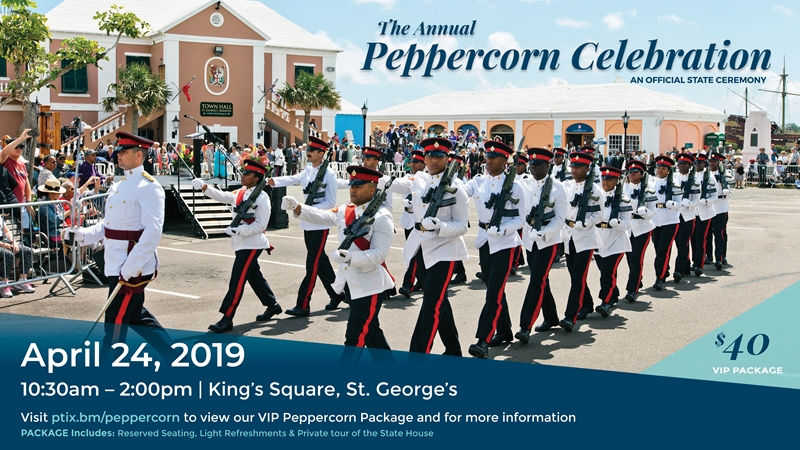 The BTA added. "While attending the ceremony itself will always be free for to all, the Bermuda Tourism Authority positions the VIP Peppercorn Ceremony Package as a way to elevate the visitor experience with a deeper understanding of cultural traditions.
The VIP Peppercorn Ceremony Package includes:
Special Reserved seating to view the ceremony, Bermuda Regiment and the Freemasons led by Scottish bagpipers
Private access to the exclusive garden party featuring local live entertainment
Complimentary drinks and refreshments
The chance to mix and mingle with Freemasons and other local dignitaries
A private tour led by a local Freemason of the State House
To book the VIP package, visit ptix.bm/peppercorn.
The Peppercorn Ceremony takes place every April in St. George's King's Square, celebrating the unique moment when the Freemasons present the Governor with their annual rent: a single peppercorn.
Full of pomp and circumstance, it features a parade full of officials and dignitaries, many arriving by horse-drawn carriages, along with military music and a classic Town Crier narrating the festivities.
Read More About
Category: All, Entertainment, News