Hosted by Fort St. Catherine, a Pre-Peppercorn Ceremony Sunset Reception will be held on Monday, April 18, from 6.00pm to 8.00pm under the distinguished patronage of The Mayor of St. George, Quinell Francis.
This free event will feature an open house to explore the fort and a fashion show with the sale of locally designed hats, fascinators and headpieces.
There will be a display and auction of the special exhibit "Our History in Hats" showcasing styles from 1700-1950 made from natural materials by artists Ronnie Chameau and Donna Pink.
There will be a cash bar and cigar lounge, and those interested in attending are invited to RSVP by email info@hub1tourism.com or calling 441-705-1838.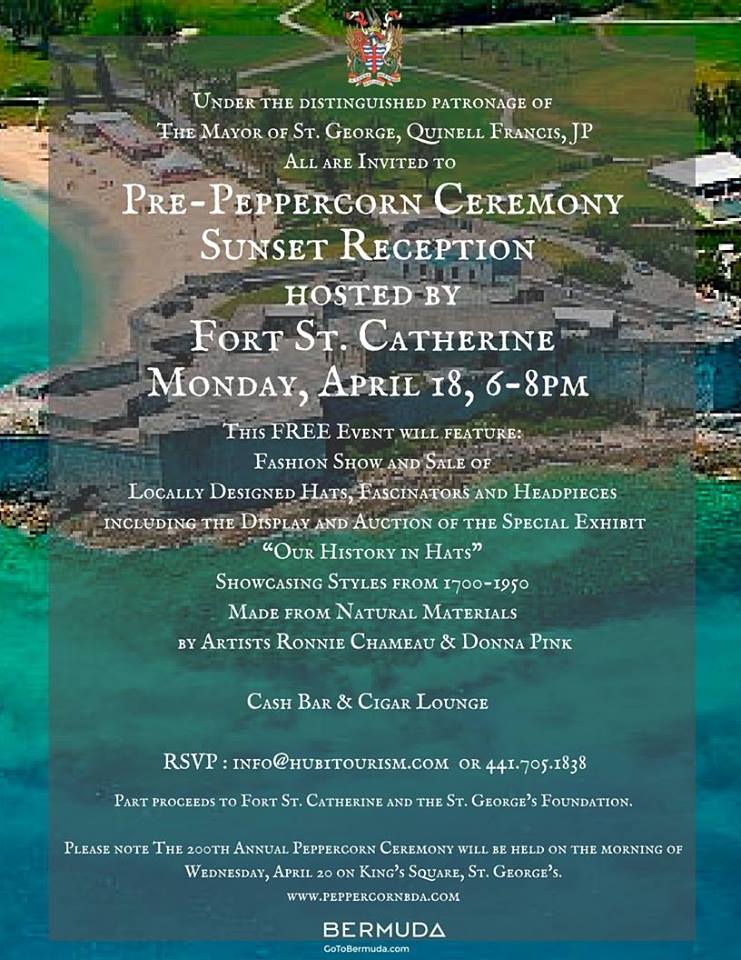 The 200th Annual Peppercorn Ceremony will be held on the morning of Wednesday, April 20 on King's Square, St. George's and expects to see masons visiting from overseas to take part in this years ceremony.
The Peppercorn Ceremony takes place every year on King's Square in the Towne of St George, Bermuda and surrounds the ceremonial payment of the "rent" of one peppercorn for the use of the Old State House, Bermuda's oldest building, by the Master, Officers and Brethren of Lodge St George #200, on the Roll of the Grand Lodge of Scotland.
The Peppercorn Ceremony in recent years has taken place on the Wednesday closest to St Georges Day [April 23rd]. It has been timed to coincide with the annual State Visit of His Excellency the Governor of Bermuda to the Town of St George.
Read More About
Category: All, Entertainment