Join the U.S. Consulate General to learn how you can study and earn your degree in the United States at a public information session at the Bermuda EducationUSA Advising Centre on Wednesday, April 17 at 5:30 p.m.
The U.S. Consulate said, "Bermuda's EducationUSA Advisor and College Counsellor, Janea Mallory, along with visiting Regional Educational Advising Coordinator, Peter Baker and U.S. Consulate representatives will share information on studying at the more than 4,700 institutions across the United States.
"Panelists will explain the unrivaled quality, diversity, and innovation of American higher education, which currently enrolls more than one million international students. By a wide margin, more international students study in the United States than any other country."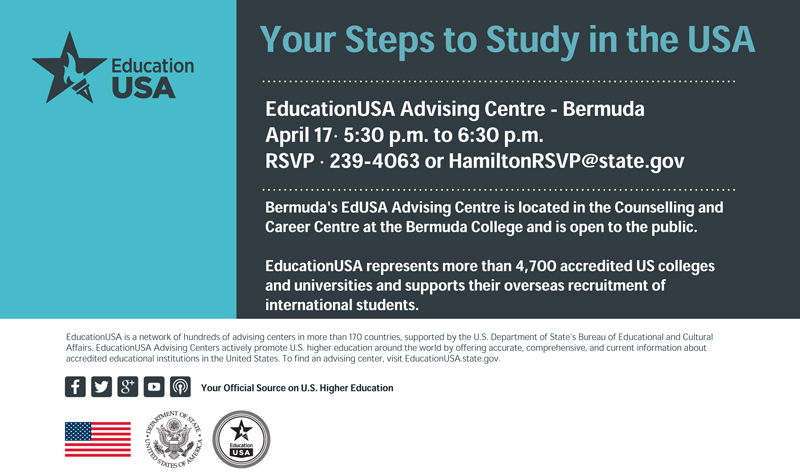 "At the event, panelists will share information to help you choose the college or university that is right for you. We will discuss student visas, and how the United States is committed to facilitating international students' study in the U.S. And we will explain how through Optional Practical Training [OPT], you may be able to stay in the United States for a period of time after you graduate for practical work experience in your field."
"About 300 students from Bermuda were enrolled in a U.S. college or university last year, where they have met a variety of people and gained skills that will help them succeed in reaching their goals. Bermuda's close proximity to the United States and visa exemption are advantages to both prospective and current students," says U.S. Consul General Constance Dierman.
EducationUSA represents the more than 4,700 accredited U.S. colleges and universities and supports their overseas recruitment of international students.
Bermuda's EdUSA Advising Centre is located in the Counselling and Career Centre at the Bermuda College. Space is limited. Please RSVP to HamiltonRSVP@state.gov or 239-4063.

Read More About
Category: All