A new Bermuda-themed mural was unveiled on Church Street in Hamilton, and a video was released that shows a look behind the scenes.
The mural, which has been painted on the side of the Dorchester building, was commissioned by the Green family. It evokes a vintage postcard, featuring Bermudian landmarks and symbols, such as a longtail, the Hamilton Princess & Beach Club moongate and Tobacco Bay.
The piece was created by the Greetings Tour team of Victor Ving and Lisa Beggs, an engaged couple from New York City.
Their series of retro, postcard-style murals have been popular on social media following since its inception in 2014, proving a hit with visitors and locals alike across the United States.
To date, they have completed 35 murals across 18 states with this being their first overseas project. Previous destinations celebrated include Alaska, Hawaii, New Orleans and Seattle.
The artists used colours found throughout Bermuda, in particular on Bermuda's homes, to inspire their pastel colour palate for the piece.
The mural is approximately 35 feet long and 25 feet high, beginning 14 feet off the ground and is painted with acrylics which will hold up to Bermuda's climate and will get better with age, in the style of a vintage postcard.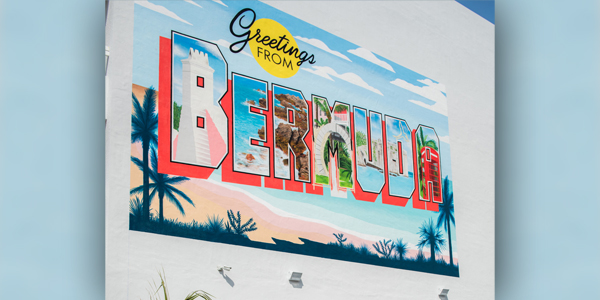 A smaller version of the piece is at Hamilton Princess & Beach Club, on the wall at the hotel's selfie hotspot in the courtyard, known as #poseonpink. This will enable guests to take an up close photo souvenir for use on social media.
Alexander Green said: "We're so pleased to unveil this incredible mural by Greetings Tour which is a fun and modern celebration of Bermuda. It's in the perfect spot to draw people's eye and adds a great pop of colour to the neighbourhood. This comes as part of our commitment to the arts, and we hope that the public enjoys it."
Victor Ving and Lisa Beggs, the artists, said: "We are so excited to have completed our first overseas mural in beautiful Bermuda. We have been inspired by the locals, their friendliness and their laidback charm.
"Even while painting the mural in the sun, we've been struck by the beauty and tranquillity of Bermuda and we hope that the public agrees that the mural captures the island's spirit."

Read More About
Category: All, Environment, News, Videos