Currently there are 47 entries in the Bermuda Day parade including Gombey troupes, majorettes, floats, dance groups, marching bands, music trucks and more, Minister of Labour, Cultural Affairs and Sports Lovitta Foggo said today.
Minister Foggo said, "I want to start by wishing Happy Pre-Bermuda Pre Day to all! This is my first Bermuda Day as the Minister of Labour, Community Affairs and Sports, and I am excited about sharing this amazing day with Bermudians and visitors.
"Bermuda Day is that time of year when we celebrate all that makes us unique. Our heritage, our culture and our pride as a people – these are the ties that bind us together.
"Bermuda Day is an occasion when we engage in a variety of activities such as supporting our runners, dancing with the Gombeys at the Parade, or even taking our first swim of the year.
"It's a day to enjoy family and friends and a day to just simply immerse ourselves in the sights and sounds of our culture.
The Minister with members of the PHC, Majorettes, who are participating in this year's parade: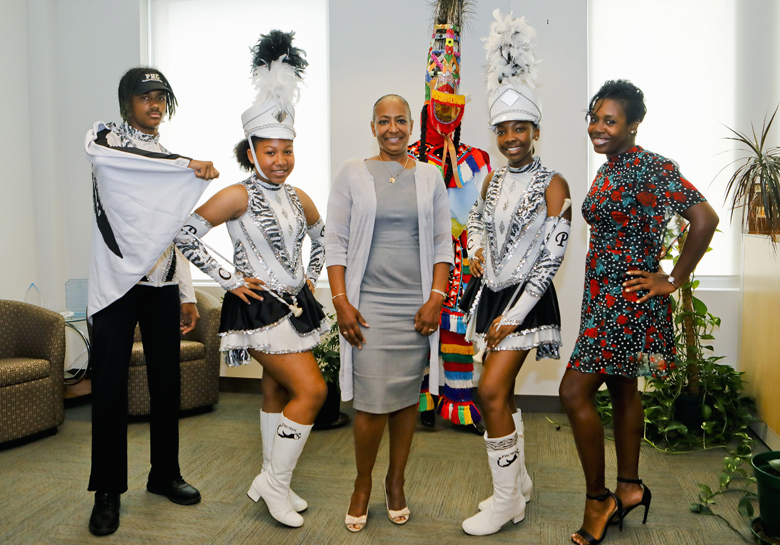 "This year's theme is Bermudian Excellence, which offers us an opportunity to show off our national pride. Over the past month, we have been highlighting our excellence in sports, education, philanthropy, advocacy, public service, business, the arts, hospitality and more. Bermudian Excellence is about celebrating every individual in our community who's doing their part to make Bermuda great.
"Much work has gone into ensuring that Heritage Month was an engaging experience, and this includes the preparation and planning for the Bermuda Day Parade.
"In fact, one of the things we excel at is the Bermuda Day Parade. This event is one of the most anticipated cultural events on our calendar.
"A few weeks ago, we shared the 2019 Bermuda Day Parade route with the public. This year, the parade starts from Front Street at 1.30 p.m. Currently there are around 47 parade entries – this includes Gombey troupes, majorettes, floats, dance groups, marching bands, music trucks and more.
"I recognize that there has been some discussions about the change in the route this year, so allow me to provide some clarity.
"The reversed parade route is in part to recognize the 40th Anniversary of the Bermuda Day Parade which originally started along Front Street in 1979.
"Additionally, last year, we received considerable feedback about the parade, which included concerns about the finish and in particular the steep Queen Street leg to the City Hall and lack of spectators. The ending was therefore was anti-climactic for the participants.
"Lastly for those members of the public who wish to continue their Bermuda Day festivities, we have been made aware that some parade groups have arranged their own display of floats and activities at the conclusion of Friday's Bermuda Day Parade. This includes a free after parade concert on Angle Street featuring many local musical artists which will give the ending more of a Bermuda flavour.
"During the parade, we have also worked to ensure a lively experience for all.
"We will have some of Bermuda's most popular personalities and DJ's providing commentary and entertainment at various locations along the parade route to ensure an upbeat momentum from start to finish.
Nadanja Bailey will be at the BTA Visitors Centre.
Patrina "Powergirl" Paynter and DJ Damon will be at the Flagpole on Front Street.
Kristin White and DJ Rusty G will be keeping the crowds entertained at the Cathedral on Church Street; and
Tina Evans and Gavin Smith will be hosting live coverage at Global House, on Church Street. Our live coverage will also be streamed live on gov.bm and the Department of Communication's FaceBook page.
"Overall the public can be assured that much work has gone into coordinating this year's Bermuda Day Parade and it is hoped that it will be an enjoyable experience for the thousands who plan on attending. I will be along the parade route, and I look forward to seeing as many people as possible on Bermuda Day. Thank You!"
Bernews will be providing live coverage of Bermuda Day starting with the race finish line and continuing for the parade.
The full 2019 Bermuda Day Parade Order follows below [PDF here]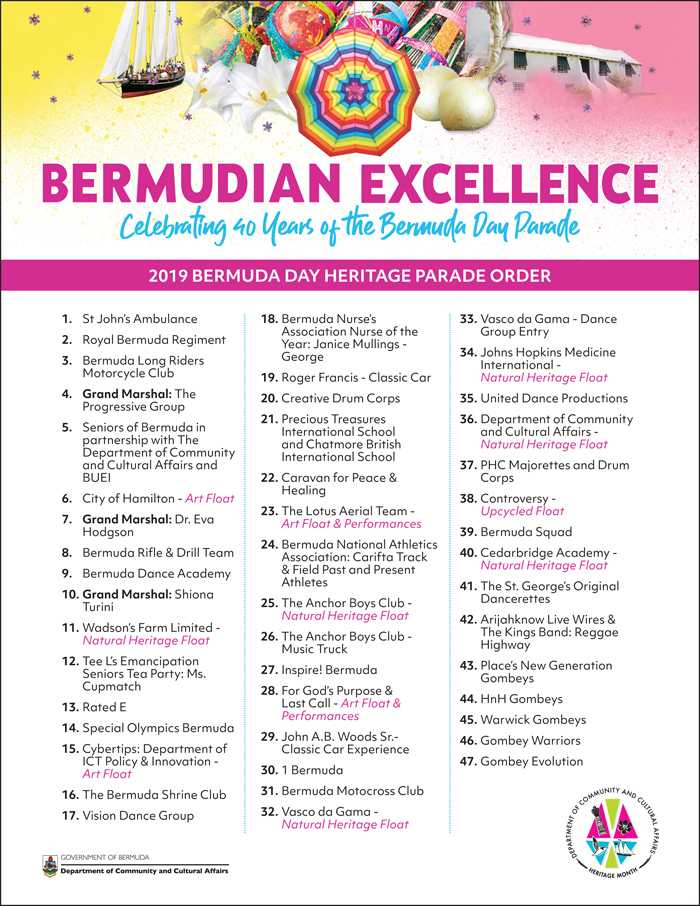 Read More About
Category: All, Entertainment, News