The final Town Hall meeting to discuss a Minimum/Living Wage for Bermuda will be held at 6.30pm on May 16th at the Somerset Cricket Club, the Government said today.
"The public will be aware that for the past three weeks, the Ministry of Labour, Community Affairs and Sports has hosted a series of meetings to seek public feedback on the creation of a Wage Commission and the establishment and implementation of a living/minimum wage," a spokesperson said.
"This follows the tabling of a report by the Parliamentary Joint Select Committee [JSC] last year on The Establishment of a Living/Minimum Wage Regime.
Video of first Town Hall on the living/minimum wage which was held on May 2
"Thursday's final meeting will feature the following panelists:
Chairman of the JSC, Rolfe Commissioning, JP, MP
Director and President of Island Restaurant Group Ltd., Philip Barnett
Statistician Cordell Riley
Lawyer Philip Perinchief; and
Bermuda Industrial Union President Chris Furbert.
"Members of the public who are unable to attend the meetings and wish to provide comments and feedback about the establishment of a Living/Minimum Wage can do so by visiting The Citizens Forum at forum.gov.bm.
"There individuals can review the Establishment of a Living/Minimum Wage Regime report and offer their feedback in the fields provided.
"The Ministry takes this opportunity to not only thank the panelists for providing their time and expertise on the matter, but also to thank all those who have attended the meetings thus far. Those who are able, are encouraged to attend the final meeting and be a part of the conversation."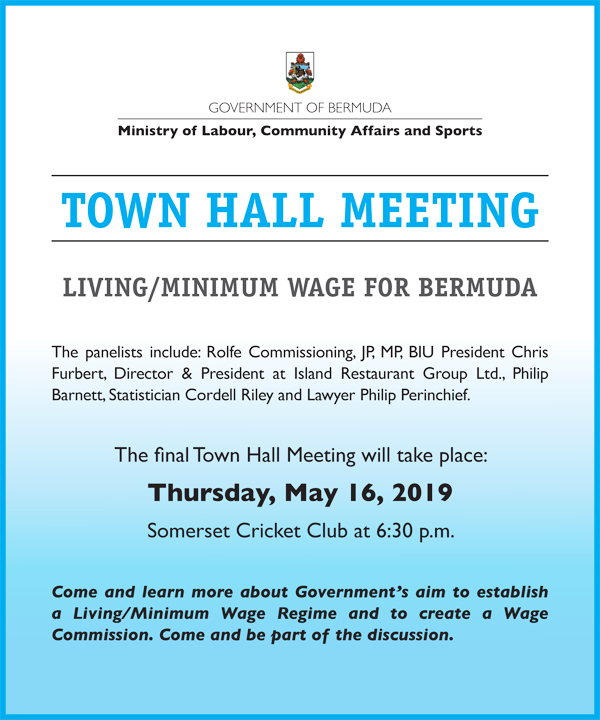 Read More About