The repechage round of the 69th Argo Group Gold Cup was expected to produce close-quarter racing as eight teams fought for one of four spots in the quarterfinal round. And it delivered.
With a gusty and shifty northeasterly breeze changing headings nearly every second, skippers Chris Poole of the U.S., Lucy Macgregor of the U.K., Ettore Botticini of Italy and Eric Monnin of Switzerland led their crews to the quarterfinals of the $100,000 match racing regatta hosted by the Royal Bermuda Yacht Club. It is the second consecutive year that Macgregor and Botticini have forged this path to the quarterfinals.
Poole won the round with a 5-2 record and was largely unscathed in his seven races. Macgregor also finished with a 5-2 record but had one half point deducted from her score for a collision in her final match. Botticini and Monnin both advanced after a three-way tiebreaker.
Monnin, the runner-up at the 2014 Argo Group Gold Cup, might've summed up all four skippers' emotions the best. "It would've been nice to advance to the quarterfinals after the round robin, it would mean that you're sailing well," he said. "But I also think the repechage is good to get extra practice. I think we are much more ready for tomorrow now than if we had been that lucky in the round robin."
Previously Ian Williams of the U.K., Australians Torvar Mirsky and Harry Price and Johnie Berntsson of Sweden advanced to the quarterfinals by placing in the top four in the opening round robin.
Skipper Eric Monnin and his hard-charging Swiss Match Racing Team advanced to the quarterfinals of the Argo Group Gold Cup [Photos courtesy of Charles Anderson]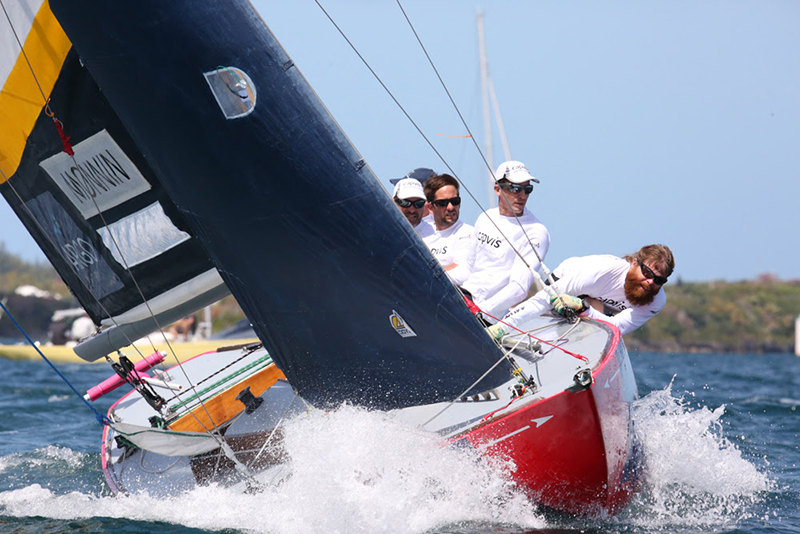 By winning the initial round robin Williams earned the right to choose his opponent in the quarterfinals and he selected Botticini. Berntsson selected Poole, Macgregor and Monnin will race each other and, in a surprise, Mirsky selected Price.
Common theory suggests that the first four qualifiers select a skipper from repechage round because they might not be at the same level of skill. But they do come in with more practice, seven more races to be exact.
Mirsky advanced to the semifinals last year through the repechage round and that experience led in part to his decision to race the World No. 3-ranked skipper who blazed through the opening day in Bermuda. "We wanted to sail someone who didn't race today," he said. "We didn't want to sail someone who had the extra practice of the repechage."
For Botticini, advancing to the quarterfinals is cathartic. Last year's winner of the Jordy Walker Award for most improved crew at the Argo Group Gold Cup lost his way this year on Day 1 after a significant collision with Poole. Botticini thought Poole altered his course, as evidenced by Poole's bow riding into his boat between the boom and the deck. Botticini was further upset when the international jury penalized him .33 points for failure to keep clear.
The incident rattled Botticini and he lost his focus. But after finishing the repechage at 4-3, he feels back on track.
"We had some unlucky events during this week but have been strong enough to come back," said the 23-year-old skipper who is the reigning Youth match racing champion.
"We know this place and the boats and my feeling since the start of the week was good, but not good enough to win many matches. We were in front in some good matches, we fought hard against Williams and almost beat Mirsky, but made some mistakes with tactics. Today we improved a lot and beat the best teams in the repechage. We're happy to be back in the game. This time we will do better than last time."
"Foul!" screams Lucy Macgregor's crew in their pivotal match against Pauline Courtois in the repechage round of the Argo Group Gold Cup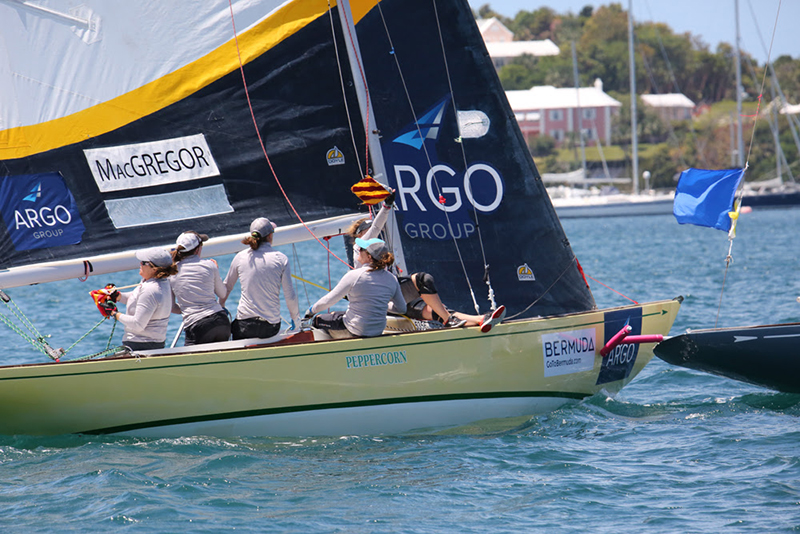 The fine line of living to race another day or having to book an earlier plane ticket home was never more evidenced than in the match between Macgregor and Pauline Courtois of France in the final flight of the round. Macgregor held a 4-2 record and Courtois was at 3-3. If Macgregor won, she would advance. If Courtois won, they both would drop into a five-way tie and have to rely on countbacks to advance.
Courtois led around the first windward mark but only by half a boatlength and with a penalty in hand. According to the on-water umpires Macgregor had scraped the Frenchwoman's transom during a tack early on the upwind leg, for which she would later be penalized. The pair went around the right-hand mark of the leeward gate in similar fashion, with Macgregor close on Courtois' transom.
After a succession of about three tacks Macgregor was able to unload her penalty when she luffed Courtois and the Frenchwoman didn't respond quickly enough. Macgregor then got to the right side of Courtois and took the lead. Macgregor would hold onto that lead to win the race and ensure advancement.
While defeat is a bitter pill advancement is elation, as Poole described.
"We're feeling good. We took five wins and our two losses were on mistakes that we could've avoided," he said. "This is a new crew for me but we've been getting more in synch every day. We're coming off the water and happy to have the extra seven races of practice. We're happy where we're at and excited to see what happens in the quarterfinals."
Racing resumes tomorrow at 1000 hours with the quarterfinal round. The winner of each match will be the first to score 3 points. In a welcome case of Groundhog Day, the Bermuda Weather Service is forecasting more northeasterly winds between 10 and 15 knots, glorious conditions for match racing on Hamilton Harbour.
Chris Poole keeps a close eye on Pauline Courtois during pre-start maneuvers in the repechage round of the Argo Group Gold Cup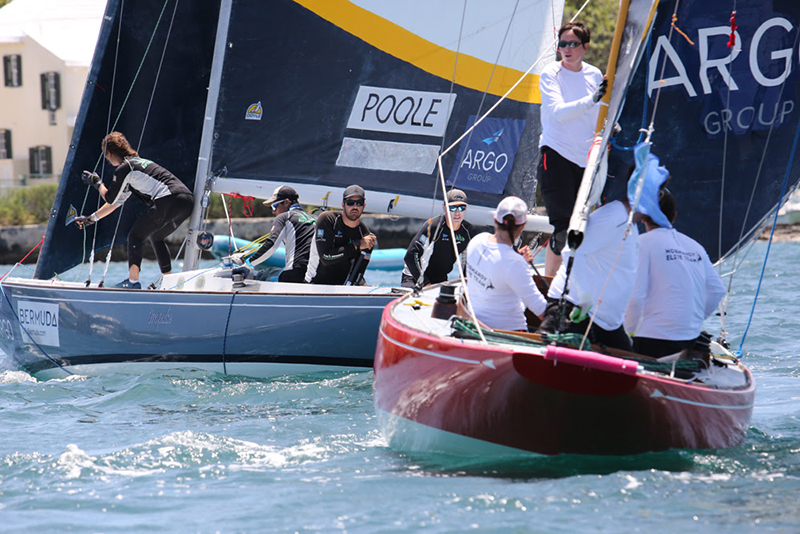 2019 Argo Group Gold Provisional Repechage Round Standings
1. Chris Poole [30, Cold Spring Harbor, N.Y., USA] – 5 points
Crew: Emily Nagel, Patrick Vos, Josh Wijohn
2. Lucy Macgregor [32, Poole, England, U.K.] – 4.5
Crew: Sally Barkow, Bethan Carden, Francesca Clapach, Kate Macgregor
3. Ettore Botticini [23, Porto Santo Stefano, Italy] – 4
Crew: Simone Busonero, Luca Camilli Meletani, Andrea Fornaro, Lorenzo Gennari
4. Eric Monnin [43, Immensee, Switzerland] – 4
Crew: Simon Brügger, Lukas Gerig, Marc Monnin, Alain Stettler
5. Nicklas Dackhammar [SWE] – 4
Crew: Olof Lundgren, Eric Malmberg, Jakob Wilson
6. Maxime Mesnil [30, Le Havre, France] – 3
Crew: Yann Chateau, Hugo Feydit, Yves-Marie Pilon
7. Pauline Courtois [30, Brest, France] – 3
Crew: Cédric Chateau, Nathalie Corson, Eric le Joliff
8. Kelsey Durham [25, Smiths, Bermuda] – 0
Crew: Stevie Dickinson, Campbell Duffy, Heath Foggo
[The top four crews advance to the quarterfinal round.]

Read More About