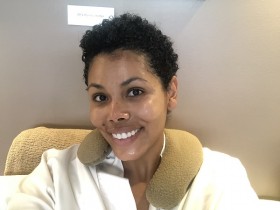 [Written by Mikaela Ian Pearman]
I'm a skincare fanatic. I like my skin to look and feel wonderful, especially now that I am over 30. Having been blessed with excellent skin thanks to good DNA from my mom and nana, I'm really careful with how to treat my skin so that I can look young forever.
I have a skincare routine for the morning and night and I drink a ton of water. That said, I also like to take it up a notch and do whatever is needed to keep my youthful glow.
So you can imagine when offered a facial promising similar results to botox, I would jump on it. Exhale Spa at Hamilton Princess is now offering a Hydrafacial, which is microdermabrasion with hydration throughout.
My therapist Chelsea explained the facial would deeply cleanse and peel, extract and hydrate, and fuse and protect the skin through super serums filled with antioxidants, peptides, and hyaluronic acid. I was immediately intrigued. She also said that women in the US were doing this treatment instead of getting botox.
Chelsea started by cleansing my skin and then started with the machines. So the first bit was to cleanse my skin and uncover a new layer with gentle exfoliation and relaxing resurfacing. The machine kind of made zaps on my skin but it wasn't uncomfortable at all.
Next up was to extract and hydrate my skin by removing all the gook with a painless suction. This was then followed by intense moisturizers to quench my skin.
Finally, Chelsea added products with antioxidants and peptides to make my skin super glowy. When I looked in mirror at the end of the treatment, I was wowed by how glowing my face was. I had good skin to start with, but it looked incredible when it was completed. Also, Chelsea showed me all the crap that came off my face during the treatment and that was pretty incredible considering I do chemical exfoliants once a week.
When Chelsea finished the facial, she also added two Perks – one for my lips and the other for my eyes. The Perk treatment was a unique hybrid system with roller-flex™ technology to remove surface layer dead skin cells and impurities while delivering vital nutrients to your eyes and lip with a convenient take-home to continue the experience.
The lip treatment promised smooth and perfectly primed lips with key ingredients of peppermint oil and peony extract to lightly plump my pout. It did all of that. My lips and the area around my mouth was super soft and hydrated at the end.
The eye treatment promised to awaken the delicate eye area with energizing green tea extract and citric acid to brighten, tighten, hydrate and protect. At the end of it, the eye area did look more awake for sure.
Overall, I thoroughly enjoyed this treatment. It was only 30 minutes, so I wasn't in there forever, but the results were absolutely astounding. I would highly recommend the Hydrafacial for anyone who wants their skin to be in excellent condition. It's worth every single penny.
The Hydrafacial is $150 at Exhale Spa at Hamilton Princess.

Read More About
Category: All, Entertainment, Style & Beauty