As part of the Heritage Month activities, the Ministry of Labour, Community Affairs and Sports honoured more than two dozen seniors last week during the annual Seniors Awards Ceremony.
"The event, which took place at the Bermuda National Gallery also recognized author, historian and former Government MP and Minister, Mr. Dale Butler; social activist, journalist and unionist LaVerne Furbert; and scholar, author and human rights advocate James E. Smith, Historian and former Assistant Clerk to the Legislature for their literary contributions to Bermuda," the Ministry said.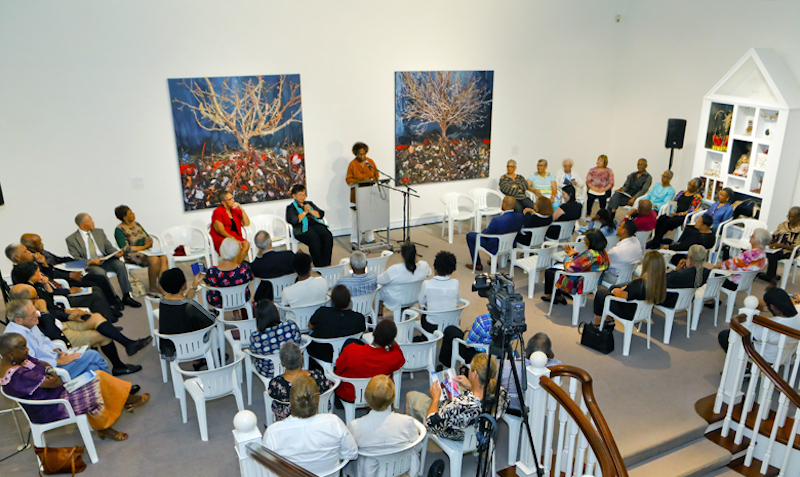 "This year, special recognition focused on highlighting individuals that either attended the Berkeley Institute or taught there.
Presenting the awards on behalf of the Lovitta Foggo, Minister of Labour, Community Affairs and Sports, was the Junior Minister, Sen. Jason Hayward.
Sen. Hayward said, "This event is always such a wonderful highlight on the Heritage Month calendar and I am pleased to be able to spend some time with you today. To all of our seniors here today, this is a fitting time when the Government can collectively celebrate your contribution to our society. The historical legacy that you have created certainly is unparalleled and it's something that we should all uphold and cherish.
"I wish to acknowledge and congratulate the Berkeley Institute family on their recent milestone anniversary. You will see that we are highlighting individuals that either attended the Berkeley Institute, taught there, or both in this year's Senior's Book. Thank you for your commitment to education and to upholding the legacy of this fine institution.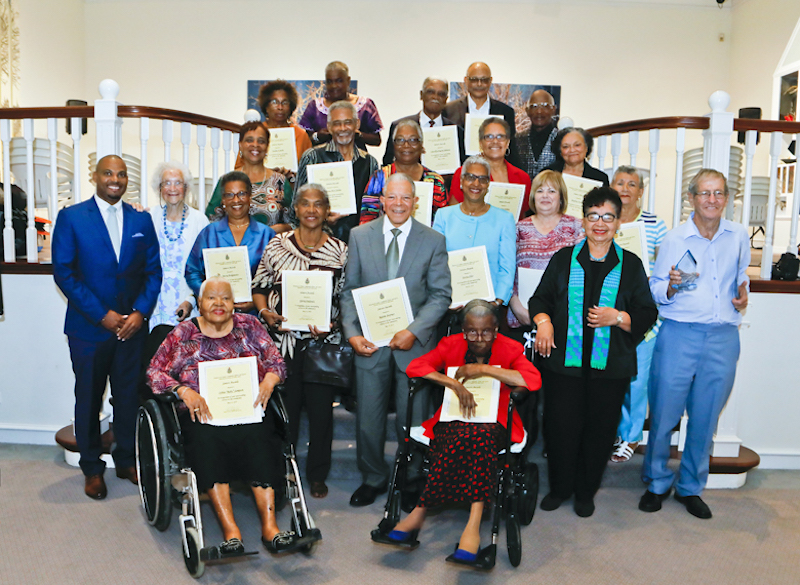 "I also would like to express best wishes to our Centenarians who reached this tremendous milestone in 2018. Congratulations, and may you be blessed with good health and humour for the years ahead."
Sen. Hayward concluded, "This Government remains committed to ensuring that all of you here this evening benefit from the critical services you need to make your lives comfortable and fulfilling.
"It is the absolute least we can do, because each of you in your own special way have played such an important role in building the Bermuda we have today. All of you here today are the foundation and lifeblood of this community and Bermuda is a better place because of your sacrifice and dedication."
The following Seniors received recognition in the following categories:
2018 Centenarians
Family of Angeline Bean [posthumous]
Dolly Davis
Laura Gaiton
Elizabeth Kitson
Winifred Oatley
Deolinda "Dorothy" Pacheco
Ruby Sampson
Senior Awardees Affiliated with The Berkeley Institute
Marva Allen
Kalmia "Joan" Blades
Marva Bridgewater
Maxine Esdaille
Gloria Frederick
June Hill
Family of Patricia Avril Holder (posthumous)
Ellen-Kate Horton
Robert Horton
Eunice Jones
Roderic Pearman
Mervin "Denny" Richardson
Llewellyn Eugene Simmons
Marlene Warren
Sinclair White
Read More About