The Association of Bermuda Insurers and Reinsurers [ABIR] said they are pleased to welcome Bermudian Calum Maule as their 2019 summer intern.
"In this role, Calum will be exposed to national and international public and regulatory policy issues and gain an understanding of Bermuda's [re]insurance sector through interaction with ABIR member companies and hands on engagement in ABIR's global public policy, advocacy and education work on behalf of Bermuda's leading insurers and reinsurers," ABIR said.
Calum attends Queen's University in Ontario, Canada and is pursuing a Bachelor of Arts degree in Economics with aspirations to pursue a career in Bermuda in the re/insurance industry. Mr. Maule is a 2015 graduate of Saltus in Bermuda and was a National AP Scholar.
Calum Maule with ABIR Director of Policy and Regulation Suzanne Williams-Charles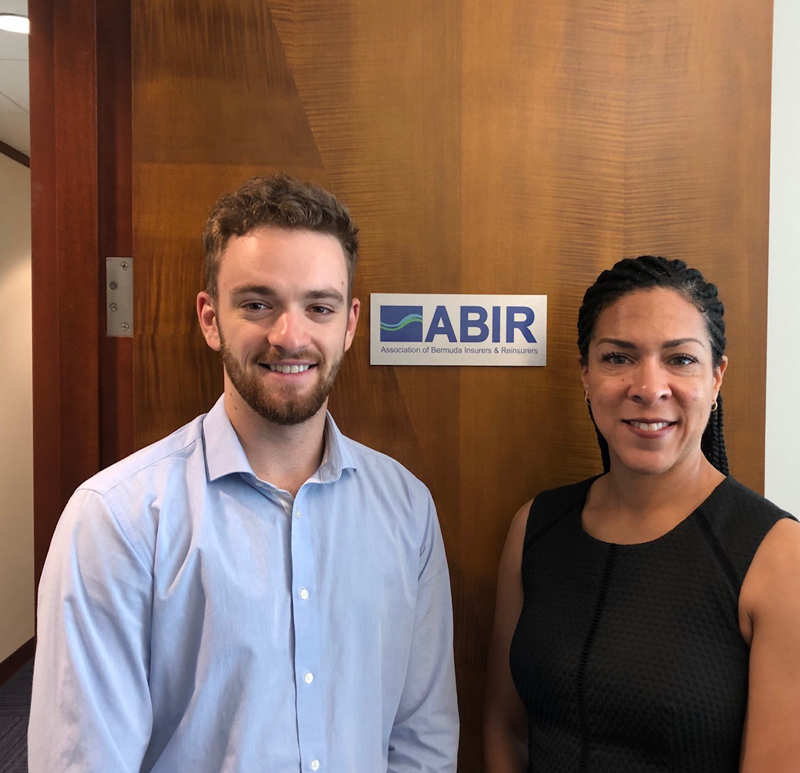 "We are thrilled to offer this experience to a young Bermudian through our summer internship program," said Suzanne Williams-Charles, ABIR Director of Policy and Regulation. "Critical to Bermuda's success as a leading international re/insurance market is its ability to develop Bermuda talent."
ABIR's most recently available economic survey [2017] showed ABIR members employed 1,495 full-time staff in Bermuda, of which 1,044 – nearly 70% — were Bermudians, spouses of Bermudians, or permanent residence certificate holders [PRCs]—a 7% increase since 2007.
"ABIR's commitment to the development of talent in Bermuda by providing internships, graduate training programs, professional development opportunities, tuition reimbursement and leadership training to Bermudians is longstanding," said John Huff, Chief Executive of ABIR, which marked its 25th year of representing the collective interests of the Bermuda re/insurance market in 2018.
"Member company support of career development is grounded in the understanding that Bermuda's insurance and reinsurance markets are critical to managing risk in the international economy, and the success is only possible with highly qualified and well-trained talent in Bermuda."
Read More About