Amir X will be launching his very own collection of men and women's wear 'A-Line' Collection when he hosts his fashion show at Pier 6 on Front Street in July.
A spokesperson said, "Amir X launches his very own collection of men and women's wear 'A-Line' Collection with a series of vibrant colors and regal designs.
"This years fashion week starts on Friday, July 5th at 7pm on Front Street at Pier 6 and is guaranteed to give the audience something different with a celebration of seniors along with their appreciation for fashion.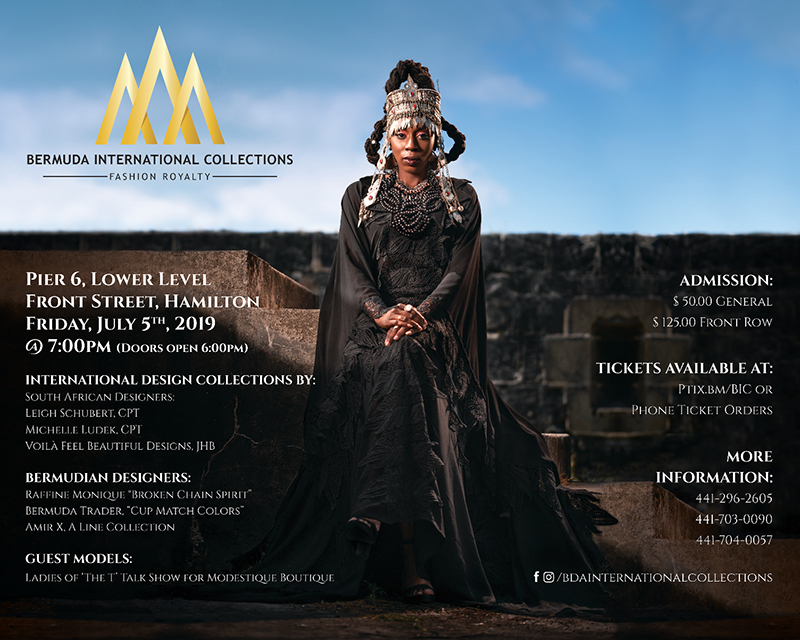 "We have a number of 'Trail Blazers' who will be walking for both local and international designers and will also kick off the 'Cup Match' Season sporting the colors of their favorite Cricket Team in clothing from Bermuda Trader styled by international fashion blogger Chellsy Mapp, Store Director of Zara International in Buffalo New York.
"Chellsy flew to Bermuda during the Bermuda Heritage Day weekend to assist Executive Producer and creative Director of Bermuda International Collections, Amir X, with making sure the senior models, ages 65 – 90, look their best.
"The clothing from the South African Designers, Michelle Ludek, Leigh Schubert, Seatbelts & Openspaces and Redialle has arrived and fittings have begun with the models looking fly! In total there are 55 models in the show with a special treat of African men, from Executive Chefs to professional Actuaries, that will grace the runway. This will be a show that everyone who is into fashion won't want to miss!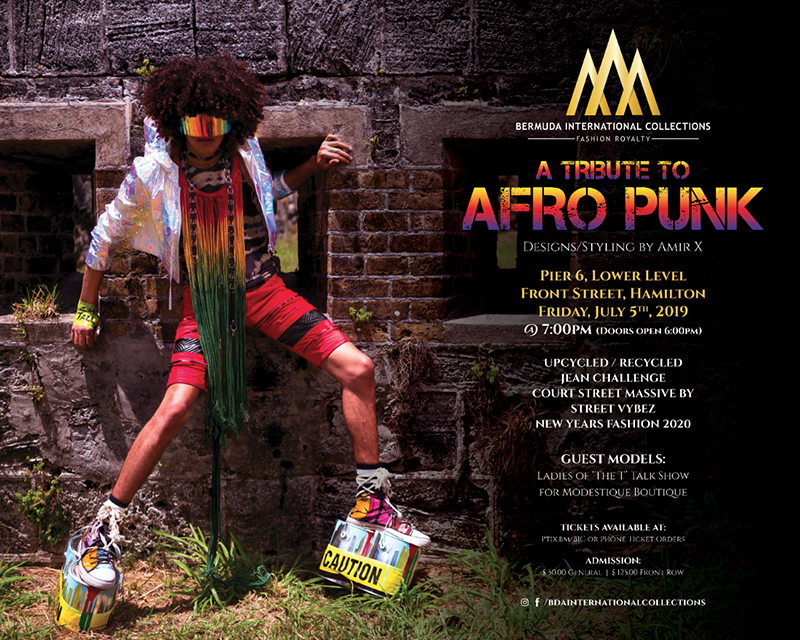 "As a special treat, all the ladies of 'The T' Talk Show are modeling in the show as a promotion for the upcoming filming of 'Season 2' scheduled for the end of August at the Daylesford Theater.
"What we are doing different this year is surrounding the fashion collections theme around the events that people will attend both locally and abroad; and will highlight Brooklyn, New York's 'Afro Punk' Festival and our very own 'Cup Match' Emancipation Celebration. One size fits all is the name of the game and there is something for everyone.
"As 'Upcycling' is the latest trend in clothing, local designers Brittany Wolffe, Taijaun Hollis, James Lee, Rochelle Minors, Renee' Hill , Davika Hill, Hector Watson and Dion Lightbourne have set themselves to the challenge to see just how great at turning something from one thing into another without the audience realizing what it once was – Hmmmmmm!
"The shows closing will be jaw dropping with an out of this world collection created by Raffine Whaley entitled 'Broken Chain Spirit' along with Amir X's brand new label for men and women 'A Line'. These two together will shut the house down with presentations on an international level.
"Following the show on Friday will be a sale of all items on Saturday July 6th at Pier 6 between 12pm and 6pm. Clothing is attractively priced and will make a statement for all those who purchase.
"For more information on the designer collections please follow us on Facebook and Instagram @bdainternationalcollections and purchase tickets at Ptix.bm/BIC. By phone 296-2605, 704-0057 and 707-4393."

Read More About
Category: All, Entertainment, Style & Beauty