The creators of the Bermuda Better Energy Plan this week walked away with the Bermuda National Trust's top environmental awareness award, while others also winning awards included Titan Tours, Warwick Academy Natural History Club, Devonshire Pre School, East End Primary School and more.
Alternative energy company BE Solar, British energy consultant Etude and environmental charity Greenrock collaborated on the Better Energy Plan to present an alternative to the draft Integrated Resources Plan [IRP] which had projected that 80 percent of Bermuda's energy needs for the next 20 years would require fossil fuel generation.
Using existing studies and data, the Bermuda Better Energy Plan instead proposed that alternative energy could provide up to 60 percent of the Island's energy needs while cutting carbon emissions by 60 percent.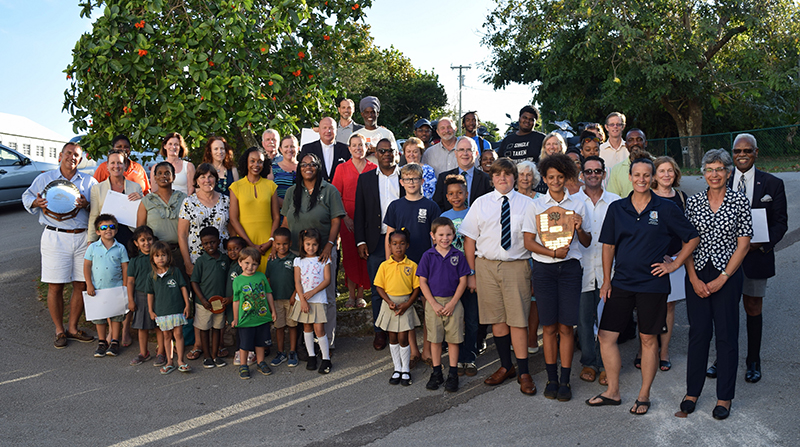 The submission of the plan was accompanied by a series of public meetings organised by Greenrock where Etude staff made presentations which did much to raise awareness about the potential for alternative energy and a cleaner environment.
Bermuda National Trust executive director Bill Zuill said: "The process of finalising the IRP is still underway, and this award was not made as an endorsement of a specific approach. It was given because the Bermuda Better Energy Plan did a superb job of raising awareness that alternative energy is a viable approach and is also good for the environment."
The award was made at the Trust's annual awards ceremony and annual general meeting on Tuesday night. The event, held at the Whitney Institute, saw dozens of recipients receive awards.
Also in the awareness category, an award was given to bus company Titan Tours owners Winston and Rashida Godwin for their African Bermuda Dispersion Tours which visit the African Diaspora Heritage Trail [ADHT] sites where Mrs Godwin and local experts bring the stories of fascinating individuals and events to life.
Members of the Warwick Academy Natural History Club and their staff advisor Rosalind Wingate receive the Michael Darling Award – the Trust's top education award – from Trust President Alana Anderson and Governor John Rankin.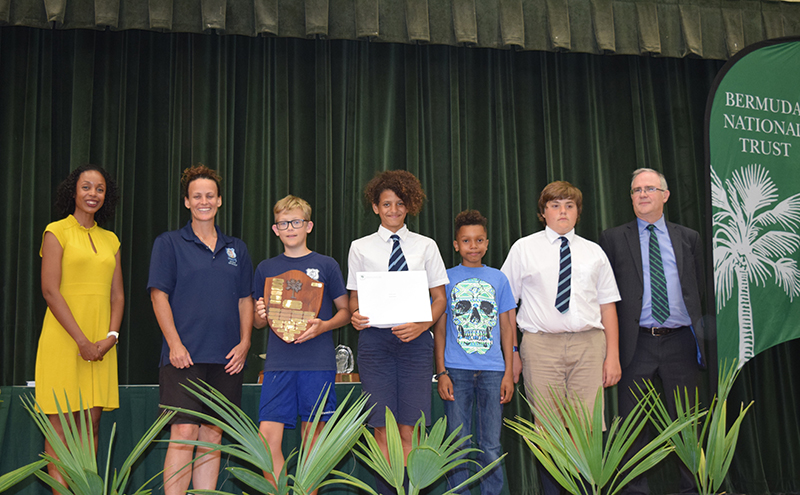 Local artist Vivienne Gardner also received an awareness award for her life's work creating beautiful stained-glass windows in the Island's churches, and particularly in the Anglican Cathedral. The award was given to recognize the contribution they have made to Bermuda's built and cultural heritage.
In the education arena, Warwick Academy Natural History Club received the Michael Darling Shield for starting the club, which maintains an edible garden which produces ingredients for pizza, a small nursery of endemic and native plants and a web cam in a bluebird box. The students in the club also started 'Mission Compostable' and 36 WA families are bringing their compost to school to increase healthy soil for the edible garden.
The Wee Environmentalist Award for young children went to Devonshire Pre School's inquiry-based learning include topics such as insects and plants. They have installed a butterfly garden to study the life cycle of butterflies, introduced trash free lunches and a 'water only' policy.
Also receiving an Education Award was Bermuda College for its aquaponics initiative in the Technical Education Centre. Constructed by students and faculty, the solar-powered facility already has more than 12 different types of plants, including budding strawberries, and butter head lettuce [nearly a foot tall], in addition to a dozen or so goldfish.
BE Solar managing director Stuart Kriendler (second left), Greenrock board member Eugene Dean [second right] receive the DeForest Trimingham Awareness Award from Bermuda National Trust President Alana Anderson [left] and Governor John Rankin.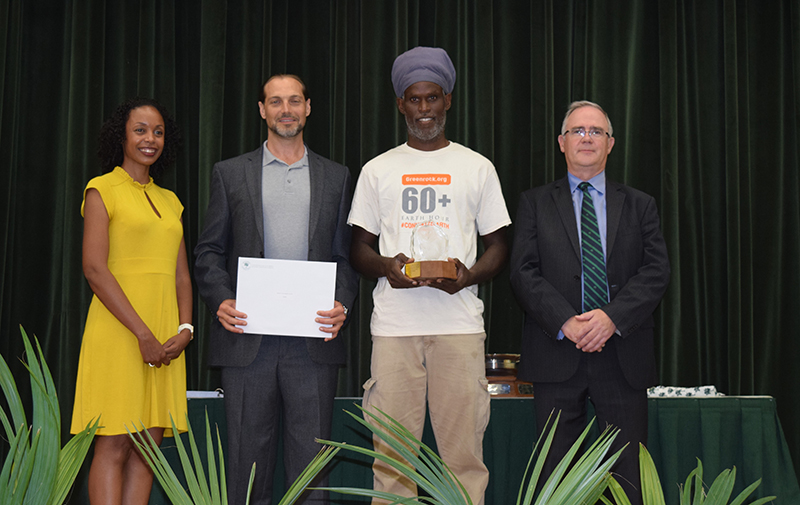 The final education award went to East End Primary School and teacher Heather DeSilva. Ms DeSilva has invested hours and personal funds to ensure that the school garden is in good shape and works with the students on the importance of vegetable gardening, composting, recycling and living free of pesticides. She spends her lunch hours in the garden with students growing and caring for an edible garden.
The Trust's top Preservation Award, the Clipper Award, went to William and Peta White and Ted Wood of Botelhowood Architects for their sensitive restoration of Walford, a Grade 2 listed Victorian home on Pomander Road, Paget. The award was given for the huge amount of thought given to in restoring the and the painstaking efforts made to retain or replace features like for like.
Also receiving a Preservation Award were Stuart and Olga Kriendler for their restoration of Seven Wells on North Shore Road, Devonshire. The 18th Century Grade 1 listed house was close to dereliction before they took it on, and although the landscaping is not finished, the Trust felt their efforts to save the house were worthy of recognition.
William White [centre] receives the Bermuda National Trust's top preservation award – the Clipper Award – from Home Affairs Minister Walter Roban. Lt Col White, his wife Peta [right] and Ted Wood [second left] of Botelhowood Architects received the award for the restoration of Walford on Pomander Road, Paget. Looking on is BNT president Alana Anderson.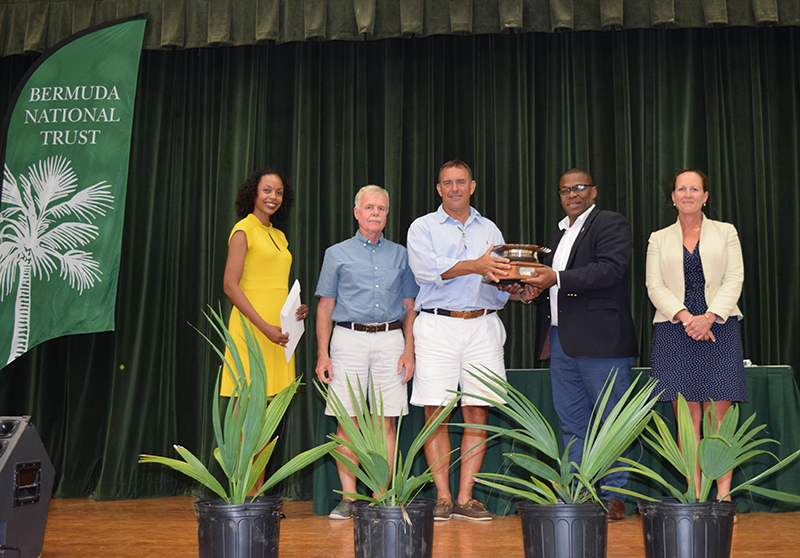 The sole architecture award went to Carol Engelhorn and architect David Benevides for Five Star Cottage on Middle Road Southampton. This new home was recognized a model of how new architecture can show particular sensitivity to Bermuda's traditional architecture.
Also receiving a preservation award was the Vestry of the Anglican Cathedral, which was honoured for the South Transept window honouring those who served in the First World War.
This stained-glass window, installed in 1920, was buckling but was restored in time for the 100th anniversary of the end of the First World War on November 11, 2018. The award was accepted by Cathedral Canon Norman Lynas, who first reported the problem and led the restoration.
An environment award was presented to Rosedon Hotel owners Lee Petty and Scott Kitson and architect Vanessa Daniel, for their redesign of the front gardens of the Pitts Bay Road, Pembroke property, converting it from a "grassed and mostly unused slope into multiple interconnected outdoor tropical living rooms".
Also receiving an environment award were Adam and Jessica Harbutt, who for the last year have been cleaning up Belmont Ferry Stop, initially with one major clean-up which resulted in a truckload of trash being removed, and now with regular weekend clean-ups to maintain the popular location's now pristine state.
The Trust also gave a number of service awards to dedicated volunteers and staff.
Staff and students from Devonshire Pre School receive the Wee Environmentalist Award from Bermuda National Trust President Alana Anderson and Governor John Rankin.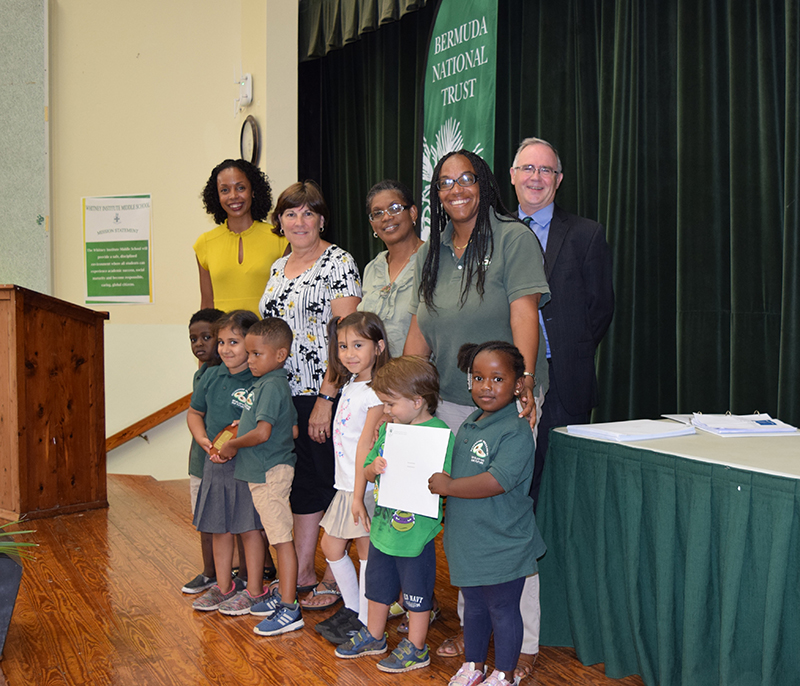 These included Diana Downs for her management of the Trustworthy shop at the Globe Hotel in St George's and the Christmas shop at the Trust's Waterville headquarters, and American part-time resident Jodie Gardener who spends the spring looking after the flowers in the pet cemetery at Waterville.
Vera Mills, a dedicated and long-time volunteer on the front desk at Waterville, also received a service award, as did Trust President Alana Anderson, Christine Barnes, Jennifer Gray, Risa Hunter, Helen Orchard, Amanda Outerbridge, Mariette Savoie, Amy Shillingford, William White and Deanna Williams, who made up the volunteer steering committee for the International Conference of National Trusts, which Bermuda hosted in March.
National Trust gardener Vibio Festa received a five-year long service award and all the Trust staff were recognized for their hard work.
Following the awards ceremony, Bermuda National Trust members re-elected Alana Anderson, Stephen Kuzyk, Robert Masters, Robin Mayor and Mark Orchard to the Trust's 13-member Council. The other eight positions are appointed.
Mrs Anderson, Mr Orchard and Mr Kuzyk were subsequently re-elected as President, Vice President and Treasurer by the Council.

Read More About
Category: All, Environment, News