On Sunday [June 9], an event will take place in order to honour Dr. C.A. Smith and his contributions to the island.
The event poster says, "Dr. C.A. Smith aka Pop Pop. Lived a life full of heart & integrity. His tenacity in a segregated Bermuda helped pave the way for other black doctors on island.
"After overcoming insurmountable obstacles, he opened his own practice in the building proudly unveiled today as Dr. C.A. Smith Court! He and his beloved horse Prince could often be seen racing off to minister to his patients on Bermuda's Street. Outside of tending to his patients, he was a founding member of Alpha Phi Alpha, a ring doctor for local boxing matches and an entrepreneur. Ever interesting, always loved."
Day of Festivities:
6 – 6.30pm
Welcome Introduction Mr. Ronnie Lopes
Unveiling of the new Dr. C.A. Smith Court Building
6.30 – 7pm
Store Specials & Kid's Activities
7 – 7.30pm
Address by Alpha Phi Alpha Bermuda Chapter President
Step Demonstration by Alpha Beaus!
7.30pm onwards
7.45 – 8.45pm
Musical Entertainment by Working Title Band
8.30pm
Candlelight Vigil & Musical Serenade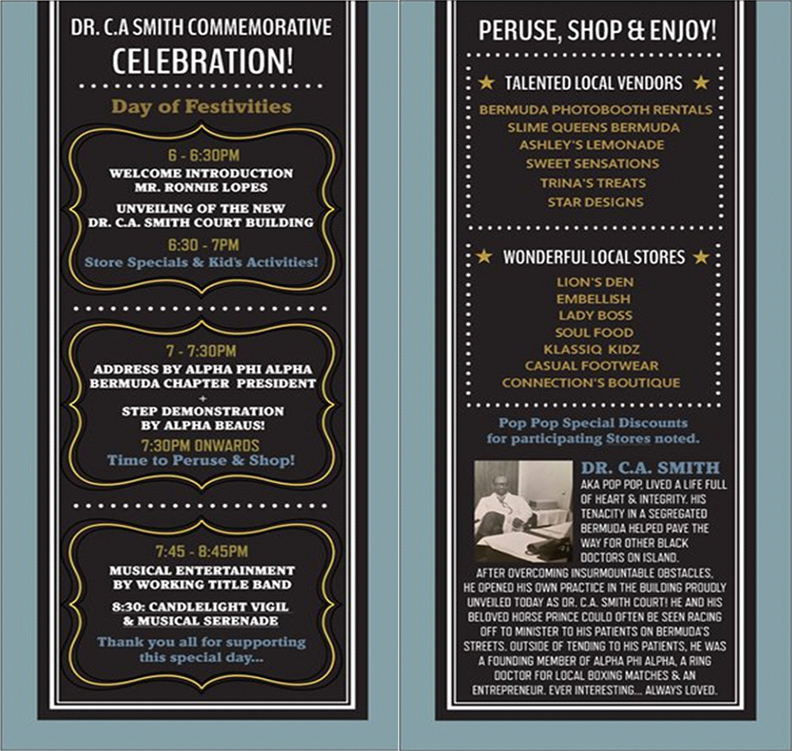 Read More About
Category: All